Fecteau: Trump's Big Business Boondoggle
Monday, December 05, 2016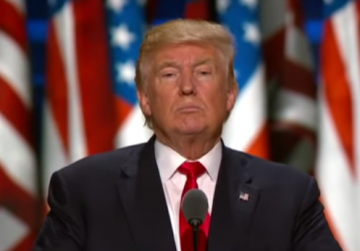 President-elect Donald Trump recently had a huge announcement. After discussing the issue with Mr. Trump, Carrier Corp. nixed a plan to relocate approximately a thousand jobs over the border to Mexico. On the surface, Mr. Trump used his acute negotiating skills to keep the Indiana based heating and cooling conglomerate from sending jobs over the border, but the story doesn't end there.
Mr. Trump's supposed negotiating acumen left a lot to be desired. The American public will have to pay Carrier roughly $7 million in the form of tax incentives, and training grants to save around 1,000 jobs almost all in Indiana. Though not as reported, Carrier would still be sending jobs overseas just not these specific jobs. This deal was so bad even Republican firebrand Sarah Palin lambasted it.
This does set a disconcerting precedent. The United States has always sought to attract companies to relocate domestically. This is the first time in modern history that the United States, led by President-elect Trump, has fundamentally bribed a company to stay. Moreover, other businesses have an incentive to threaten relocation, so they can negotiate a similarly lucrative package.
This is a stark contrast from Mr. Trump's campaign promises. He promised stiff tariffs on companies operating on American soil that relocated outside United States. He also promised the voters he would work for them, and not be subservient to corporate interests; this was just sleazy, half-baked rhetoric.
This reeks of a backroom deal meant to make Trump, and his corporate partner in crime look like angels. Mr. Trump gets to show off his alleged business prowess. Carrier can announce they are committed to the American workers, and let's be cliché, the American dream. What isn't there to like? Oh yeah, the price tag; the American people are the losers, and big business wins yet again.
When we elected Trump, we didn't get a savvy business man; we elected a shrewd public relations guru. This deal is just a dog and pony show meant to be a PR stunt in lieu of anything truly tangible. When he formally announced the deal, Mr. Trump delivered a triumphant victory speech to thousands. If it was a win for the American worker, as he claims, it was pyrrhic and expensive.
This is what Trump did his entire career; he makes a mediocre or even poor product, slaps his last name on it, and wala, tells everyone it is the best thing since sliced bread (just like he did with this deal). Make no mistake, there are around a thousand happy workers keeping their jobs, but at the expense of the American taxpayer and others will still lose their jobs.
The United States cannot afford to financially seduce every company considering relocation, but it looks like that is the norm with Mr. Trump as President. Does anyone still wonder why Mr. Trump filed so many bankruptcies?
Where are the fiscal conservatives here? Except for Mrs. Palin, I haven't heard a peep from them. This horrendous deal stinks of everything that small government conservatives so despise, the government picking and choosing winners and losers, and a massive subsidy for big business. I guess it is excusable to them if it is a Republican boondoggle with pleasant optics.
Matt Fecteau (

[email protected]

) of Pawtucket, Rhode Island was a Democratic candidate for office in 2014 and 2016. He is a former White House national security intern and Iraq war veteran.
---
Related Slideshow: Trump in Worcester
Related Articles
Enjoy this post? Share it with others.