Finneran: America's Lost Sense Of Wonder
Friday, July 22, 2016
America once dreamed big. Now we sidestep big and argue small. We seem to have lost our national confidence.

I have no idea what Donald Trump means when he says let's "make America great again" but I suspect that he's pulling a Barack Obama word trick. You remember the phrase "hope and change", the utterly meaningless phrase which allowed every voter to project their own interpretation and their own values on an otherwise blank screen. That was Barack's trick and it worked.

Along comes Donald Trump with a promise to "make America great again". So go ahead......you've done this before.......fill in the blanks.

As for me, I think America is pretty darned good. But I also think that we are playing a worrisome game of adolescent avoidance. We have big problems and small leaders. I pray that some of those leaders begin to rise to the occasion of this new century.

Two recent events captured my attention and crystallized my concern about America's diminishing sense of confidence. Each involves outer space, that domain which but for a few very short years of Soviet achievement has been thoroughly dominated by American science.

The first event was an astonishing story about the MeerKat radio telescope in South Africa. The science here is amazing, with a promise that what we are seeing now is merely a fraction of what will open up to us over the next few years.

Only one-quarter of the capacity of the planned telescope array has been turned on and it has already opened huge new worlds for scientific exploration. Consider this---focusing on one tiny corner of the universe, the MeerKat has revealed more than one thousand galaxies where only seventy were thought to exist.

Wrap your mind around that---not one "new" galaxy but more than a thousand. A single galaxy is sufficiently mind-boggling. Consider the science and the significance of hundreds of thousands of galaxies. Consider further that the discovery potential for MeerKat Project is ten thousand times greater than that of the most advanced modern instruments, providing us evidence of the origins of the universe from 14 billion years ago. In fact, one image from the partial MeerKat survey shows a galaxy two hundred million light years away where hydrogen gas is being used to form stars in very large numbers. The mind goes numb in awe at such cosmic discovery.

Now one would reasonably assume that America is the nation behind the MeerKat Project given our nation's history, its science and technology, its wealth, its curiosity, and its confidence. Buy one would be wrong! As astonishing as the science and the scale of the project might be, the shock of learning that the United States is not a part of it is even more surprising. Rather, a coalition of ten countries has taken the initiative while we sit on the sidelines, apparently paralyzed by the plight of migrating plovers and other small ball controversies. Something is wrong with this picture.......................

The second event occurred on July 5th and it has more of an American flavor to it, a flavor however which seems to no longer excite our sense of wonder and pride, a flavor that seems to be falling out of style.

On August 5th, 2011 NASA launched the spacecraft Juno for a mission of exploration to Jupiter. The launch vehicle was capable of giving the spacecraft just enough lift to get into the asteroid belt at which point the sun's gravity would pull it back toward the inner solar system. Mission scientists then designed a virtual slingshot of centrifugal force, using Earth's gravity as an assist to the spacecraft, increasing its speed by almost 10,000 miles per hour (to a maximum of 165,000 mph), allowing it to reach Jupiter. That "fly-by" Earth occurred on October 9th, 2013 and the spacecraft began its orbit of Jupiter on July 5th this year, arriving there within one second of the mission calculation!

My vocabulary fails me at such knowledge and skill so I revert to a simple test while riding the bus or driving my car---ask yourself how you would go about such a mission. How would one design and build the vehicles, the engines, the computers, the cameras, and the scientific instruments. How would one calculate the effects of gravity or of the slingshot? This is simply wondrous stuff, even beyond the vivid perspectives of science fiction. And it is truly humbling to consider one's ignorance.

Which brings me back to America and its lost confidence.

It is wrong for us to sit on the sideline, aimless about the big frontiers and agitated about many essentially meaningless things.

America does big things. We do them well. We could and should be the world leader in exploring new frontiers. We should not be timid. We should be bold. And three fabulous frontiers beckon us---outer space, the human brain, and earth's oceans. Each is complex. Each is wondrous. And each awaits the return of America's confidence.

Go forth America, go forth.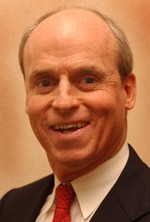 Tom Finneran is the former Speaker of the Massachusetts House of Representatives, served as the head the Massachusetts Biotechnology Council, and was a longstanding radio voice in Boston radio.

Related Articles
Enjoy this post? Share it with others.