Finneran: Baker's Wise Words
Friday, December 15, 2017
To know him is to like him. To watch him is to admire him.
He's Charlie Baker, the Governor of Massachusetts.
Full disclosure: I have known him since 1991.
He was impressive then. He's even more impressive now.
He's a man who does not confuse words with actions. He knows that in the world of political leadership, words and deeds are both important.
I happened to be at a political event a few weeks ago and, quite naturally, he was called upon to make some remarks. Having known and worked with several Governors—King, Dukakis, Weld, Cellucci, Swift, and Romney---I pay attention at these gatherings.
The press will tell you that he's bland. He's not. The press will tell you that he's boring. He's not.
Just remember that the press likes friction for the sake of friction. They're peddling papers. They're peddling ads. They'd rather have a plane crash than to have a plane land safely and smoothly. Don't ever confuse the yearnings of the press with a yearning for good government.
I don't doubt that Baker would like to have a sufficient number of Republican legislators in either the House or Senate to uphold any gubernatorial vetoes he might issue. He does not however enjoy such numerical leverage. He is obliged to work with Democratic leaders who themselves have many thoughtful Democratic legislators by their side. All of them, from the Governor on down to a first-term legislator, have been duly elected by their respective constituents and they arrive on Beacon Hill with goals and ideas for making life better here in Massachusetts.
What Baker does better than others is the avoidance of the CEO messiah complex. He is not the president and chairman of a board of rubber stamp directors. The legislators are not his employees. They are not subject to his commands.
Baker knows that, and he is not troubled by the constitutional arrangement of checks and balances. As smart as he is, he knows that there is always more to learn. He has two great skills necessary to public leadership. One, he's a good listener. Two, he's curious.
He's not afraid to ask questions. Indeed, he'll ask many, for he's as interested in the history and evolution of legislators' opinions as anyone I've ever met. Truth be told, but for the abodes of the loony left and loony right, most Americans would be thrilled to see Baker-like behavior in Washington D.C.
Recall the warnings and the abject fears of the founding fathers regarding an imperial presidency. They did not want monarchs. They did not want rulers. They wanted public power to be disbursed and shared. They did not like potentates with "divine rights" and other perpetuating nonsense.
Those founding fathers might have badly botched the issues of human rights—think slavery and women-- but they certainly understood the flaws of human nature and the concentration of power. Baker gets that critical element of shared authority and he works at it.
I enjoyed a quiet and very pleasant surprise at this event. Unbeknownst to me, the Governor and his team have completed the planting of more than ten thousand trees during his first term. Most of those trees have been planted in the "gateway cities" of Massachusetts, the old industrial towns where mills and factories once displaced some refreshing public spaces. The Governor sees this initiative as a helpful nudge to beautification, to economic re-development, to clean air, and to carbon capture.
You'll note that there is no dictate to anyone. Mayors, councilors, and selectmen can indicate a desire to partner on this low-cost high-value initiative as they see fit. It's not man-on-the-moon stuff, it's not my-way-or-the-highway stuff, and it's not avoidance of the bigger and more complicated issues we face. Baker knows that budgets, taxes, housing, transportation, economic opportunity, and health care are urgent matters for all of us and he has interesting ideas on all of them. At the same time, he brings a practical sensibility to the less sensational opportunities to improve the state.
Think common sense. Think wisdom. Think trees.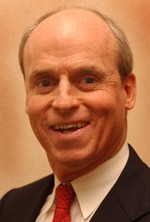 Tom Finneran is the former Speaker of the Massachusetts House of Representatives, served as the head the Massachusetts Biotechnology Council, and was a longstanding radio voice in Boston radio
Related Articles
Enjoy this post? Share it with others.