Finneran: Chicago Weeps
Friday, September 16, 2016
A recent article catches my eye. My knees buckle, my heart breaks. You read the article again, slowly. Your eyes fill up and your fists clench. You mutter the words---"those poor children, those evil bastards".

Chicago, once a great city, is frightened and frightening.

Chicago, the "city of big shoulders", slumps weakly toward chaos and ruin.

The article coincided with the return of students to Chicago's schools. And a highly admirable act reveals how utterly rotten things have become in this city that I have loved.

The article described "safety patrols" of adults organized in an effort to get children through the streets of Chicago to their schools. Every parent, every teacher, every minister, and every elected official should and would applaud the involvement of those adults. Those safety patrollers are demonstrating love and highlighting education. No greater actions are there for parents to embrace.

Sadly, the urgent necessity of their patrols also shows that the streets of Chicago have been lost to violent thugs. Gunshots echo and bodies fall. Those bodies hit the ground, regularly, frequently. Weekends yield numbers of shootings equivalent to the violent saloon towns of the Wild West, before Wyatt Earp and other lawmen appeared.

Night time shootings surge. Even daytime shootings increase. At least Capone and the Chicago mobs of Prohibition had a code of honor, a civilized surface decency. Civilians were spared while only wiseguys were targeted. Today in Chicago everyone is fair game, anyone can be a target. The violence and the lawlessness are appalling.

Two groups warrant our tears as well as our righteous anger.

Children first. We are talking about children, some as young as 4 and 5, others slightly older, all walking through urban battlefields twice a day. These are children. American children. Their misery might not match the misery of the poor Syrian or Afghan people but their misery is real. And it is utterly unforgiveable that it is happening anywhere in America.

The second group are the young parents of these young children. They fear for themselves. They tremble for their children. And they are held hostage in their homes by the thugs who rule their streets.

Who speaks for them? Who acts on their behalf?

Another article describes the Chicago police force as having gone "fetal", frightened into passivity by activists with an agenda.

Let's speak plainly here---for every bad cop on the Chicago police force there are a hundred good cops. And yes, the bad cops should be weeded out, fired, and prosecuted for any abuse of the badge. But must the good cops be barraged, daily, by activists who feign concern but cannot be found when the shooting starts? The cop's life is on the line, his career is at stake. The activist churns out press releases and demands from an office far removed from the bloody streets. The cop sweats on those hot streets, the activist sits in the television studio playing Monday morning quarterback.

Here's a wager I'll make book upon---those young children trying to get to school, and the young parents who live in dread of a bad news call from their pastor would be happy to see more cops not fewer, active cops not defensive cops, real cops not studio cops.

Of course in America in the year 2016 we must play the race game. So let's do it. The cops are mostly white, not "of the community". The shooters are mostly black, and they are ostentatiously "of the community". But also of the community are the schoolchildren. And their parents. And their neighbors. Those children, those parents, those neighbors are mostly black. Their blood is red and their blood is very real. Their blood runs in the streets, a hostile urban service of the shooters.

Might we pray, might we act? Might not those once mighty shoulders of Chicago bunch up in protection of its children? Might not the legendary aldermen rise to this righteous occasion? Might we set aside the unending debates of black vs. white and instead have the long-delayed debate of good vs. evil?

Good comes in all colors. Evil comes in all colors too. Choose your side. It's not about color. It's about right and wrong. And I'm with the children.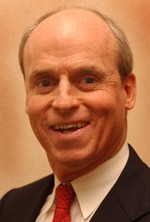 Tom Finneran is the former Speaker of the Massachusetts House of Representatives, served as the head the Massachusetts Biotechnology Council, and was a longstanding radio voice in Boston radio.
Related Articles
Enjoy this post? Share it with others.