Finneran: Decisions, Decisions
Friday, July 07, 2017
President Trump, let me introduce you to the office you've earned and the job you've won.
It's a lousy job.
You already know that campaigning can be fun. You had some raucous rallies. You laughed a lot on the campaign trail and you won the job fair and square. Lots of Democrats might gnash their teeth over that fact. They might be better off reflecting on the multitude of mistakes made by Hillary Clinton and her team of advisors, mistakes which opened the door for you to cruise right past her and into the White House.
President Obama had an identical experience---enjoying his campaigns and then getting hit on the head by cold, hard, brutal reality. Ever glib, he clearly struggled.........not with his many speeches as he was quite disciplined with the teleprompter. Rather, he struggled with the realities of the White House and the limitations of the office he had earned.
He learned the hard way that Congress does not always genuflect when a President has an idea. He learned the hard way that the world was not in awe of his life story and racial identity. He learned the hard way that the American people were open to his elections but closed to his too frequent lectures. He imprisoned himself with ridiculously overblown promises.
Mr. President you should, therefore, be careful about believing your own rhetoric. The world is not an easy place. American Presidents do not get to coast along, simply cutting ribbons, kissing babies, and "winning".
For example, North Korea. It's a big problem Mr. President and it becomes bigger every day.
Now what Mr. President? Several of your predecessors in office chose to punt, often cloaking their decision to look the other way in political rhetoric. The regime there brutalizes a horridly poor and starving population. It is led by the lunatic son of lunatic parents. And he likes to play with nuclear weapons just like little kids like to play with Legos. Pity South Korea. Pity Japan. Pity Australia. At least we have the immense Pacific as a helpful shield although it's hardly a guarantee.
And Mr. President, should you act militarily, what about China? That regime would be appalled by a flood of desperate refugees fleeing whatever destructive forces you unleash. As a putative ally of North Korea, would they simply stand by while you rain ruin upon their neighbor?
History can provide lessons Mr. President. However, those lessons can often be contradictory.
Consider World War I, often called The Great War. Of course the only thing that was great about it was that it eventually came to an end, after the totally unnecessary deaths of millions of men. That war was entered rashly, with impetuous decisions being made by impatient and paranoid men. Territorial and political guarantees were offered as if by fish mongers driven by a sell-by date. The stupendous stupidity actually exceeded the stupendous slaughter. Such are the wages of wagging fingers and uttering boastful threats. Mr. President, wars are always easier to start than to end..............
World War II of course offers an opposing lesson. Call it waffling or kicking the can down the road, but the Allies, particularly Great Britain and France, dithered away immense advantages over Hitler and his thugs, allowing him to violate multiple provisions of peace treaties as he built up enormous armaments and cowed his smaller neighbors. The delusional embrace of "peace" and appeasement of the monster drove Churchill bananas. Talk about wishful thinking................
When asked by President Roosevelt what the war should be called, Churchill replied instantly, saying that it should be called "The Unnecessary War".
Of course by the time the Allies roused themselves to action, Hitler was prepared to unleash staggering blitzes of bombardment, invasion, enslavement, and slaughter. Long gone were the easy years of 1934, 1935, 1936, and 1937 when something only slightly more than a firm glance from France or England would have toppled Hitler from his pedestal.
Regarding North Korea Mr. President, I wish that I knew what to tell you. I don't. But you have my prayers as you ponder the globe.
Decisions, decisions.......................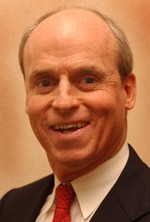 Tom Finneran is the former Speaker of the Massachusetts House of Representatives, served as the head the Massachusetts Biotechnology Council, and was a longstanding radio voice in Boston radio.
Related Articles
Enjoy this post? Share it with others.