Finneran: Dirty Laundry
Friday, May 12, 2017
Only in America.
Truly. Only in America...............
Our wealth, our disposable income, render us—at least some of us-- fools in one gigantic marketplace.
That marketplace never closes and it is always selling something.
Two recent stories make the point.
Nordstrom, the big retailer, is selling fake dirty jeans for the bargain price of $400.00 a pair. Yes, you read this correctly. Fake dirty. Not real dirty. And yes, for $400.00 a pair.
The jeans in question are horrid looking. No sane person would ever don a pair. Nor would any sane person part with $ 400.00 for a pair of jeans which so loudly announce the buyer's stupidity.
There are three legitimate questions here. First, who comes up with ideas like this? Second, who would buy such things? And third, why?
Four hundred dollars is a lot of money. For many people, it would be a windfall of riches, helping them to pay bills, buy food, and yes, buy clothes. Real clothes. Clothes for which there are needs, clothes which meet a particular purpose. Even for a wealthy person, assuming said person is somewhat normal, four hundred dollars is a lot of money. It's certainly enough to buy a pair of shoes, a couple of pairs of slacks, and perhaps a modest sports coat. It's also enough to buy a few sweaters and a sturdy winter coat or two.
Am I being too practical here? Am I handicapped in my thinking by being conscious of cost and value---or, as my wife says, by being cheap? I know this for sure---last weekend I had really dirty jeans on, for I was digging big holes and planting big shrubs. By day's end, I looked as if I had lost a war with dirt. Real dirt, not fake dirt.
A second example of crazy involves a gent by the name of LaVar Ball. He's the outspoken father of three talented sons, all of whom, according to proud Dad LaVar, will star in the NBA. The old man has already made some preposterous claims, including the boast that his son Lonzo, just coming out of UCLA, is a better ballplayer than Steph Curry.
In any event, LaVar is a self-promoting whirlwind. Last week he released his "Big Baller Brand" sneaker which will retail for $ 495.00! Wow. That must be some sneaker. Does it take you on inter-galactic travel over long weekends? What family can afford that sneaker? Would anyone in their right mind ever pay such a price? What if you have a few growing kids, let's say three kids who each grow a size or two each year for about ten years? You'd need to take out a home equity loan just for sneakers. You'd also need to see a psychiatrist.
Perhaps these two separate but similar examples of lunacy run amok will test the limits of American gullibility. Perhaps the jeans with the fake dirt won't seem "authentic" to potential buyers. For the sake of the nation, let's hope so. Otherwise our global foes will know that we've entered upon our final derangement. Perhaps the Big Baller Sneakers will not help me elevate to one-handed dunking prowess. I suspect that I'll still need a ladder and I can keep the 495 bucks in my pocket.
I know two things for sure---one, I'm not spending four bills on jeans or sneakers and two, I can buy as much Under Armour as I want and I still won't be Tom Brady.
I'm keeping my money. Screw Nordstrom.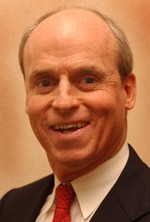 Tom Finneran is the former Speaker of the Massachusetts House of Representatives, served as the head the Massachusetts Biotechnology Council, and was a longstanding radio voice in Boston radio.
Related Articles
Enjoy this post? Share it with others.