Finneran: Do My Eyes Deceive Me
Friday, September 01, 2017
Hurricane Harvey hit Houston like a ton of bricks. That storm will not be soon forgotten.
Certain scenes etch themselves in one's mind..........major highways under several feet of water, waves lapping against second story windows, cars and trucks submerged like shipwrecks, people perched on their rooftops trying to escape rapidly rising water.
Mother Nature certainly delivered a punch. And Americans punched back.
White Americans, black Americans, brown Americans, all punched back.
To read certain newspapers, to watch certain cable outlets, one would think that America is on the verge of a race war.
Protests, counter-protests, marches, street violence, ignorant and idiotic speech, all seem to be the daily fare served up by ratings-desperate "news" outlets. Mickey mouse numbers get magnified by breathless reporters and brainless editors.
Don't be fooled. America is better than that. Much better. Just look around.
Three scenes come to mind, against a backdrop of daily engagement among and between people of many cultures and colors.
Scene 1: A white firefighter carries a baby black girl through dangerous swirling waters, reuniting the baby with her very frightened mother. I don't think either adult saw skin color as a barrier. Let's call it what it is---a very human moment of caring and love. Humanity triumphed.
Scene 2: A black rescue worker helps carry an elderly white woman from her flooded home to a rescue kayak. She is frail and frightened. He is tender and strong. I don't think either adult saw skin color as a barrier. Humanity triumphed. Again.
Scene 3: The Cajun Navy shows up. These guys are crazy. Good crazy. They see folks in trouble and they go to help. Good crazy---like firefighters running into a burning building, like police officers protecting innocent lives.
This "navy" was born in the aftermath of Hurricane Katrina and it has grown into a potent humanitarian force. They are boat owners from Louisiana who rescue people from dire situations. They trailer their pontoon boats, their air boats, their hunting boats, their inflatable boats---all low-draft craft--- to the scene of wretched danger and from there they go to work, rescuing young and old, black and white, paying no regard to color, paying high regard to human life. Humanity triumphs. Again.
Cynics weigh in on the fleeting nature of these events. Said cynics breezily predict a retreat to ethnic enclaves and ethnic suspicions once the danger has passed. Beneficiaries of racial friction---race hustlers---cannot tolerate the idea of an America that grows increasingly socially comfortable with "others". Here I think of Sharpton. You can fill in your own favorite. There are many from which to choose.
Yet my eyes deny the cynics' views. My eyes deny Sharpton's phony world. My eyes see black and white together every day. On the street. On the subway. In business. At work. In church. At the playground. In restaurants. In shared hobbies. In community projects. At neighborhood events. My eyes see good people, good parents, black and white, raising their children to pursue unhindered, dreams unimagined, just two generations ago.
My eyes refute the cable shows' refrain. Do my eyes deceive me?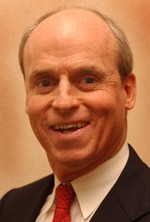 Tom Finneran is the former Speaker of the Massachusetts House of Representatives, served as the head the Massachusetts Biotechnology Council, and was a longstanding radio voice in Boston radio.
---
Related Slideshow: Worcester's 25 Wealthiest and Most Influential
Related Articles
Enjoy this post? Share it with others.