Finneran: I Love That Dirty Water
Friday, January 08, 2016
"Oh how I love that dirty water,
Boston you're my home…….."
Those legendary lyrics, brought to you by the Standells, circa 1965, have to be retired.
Have you seen Boston Harbor lately? One upon a time it earned the scorn of the nation. Now it's clean, green, and beautiful. Mother Nature stands restored, no longer fouled by the hands of man. In fact, the ring of beaches in Boston and its neighboring communities have been named the "best urban beaches in America". That includes the beaches of San Diego, Los Angeles, South Beach, and Honolulu. Those beaches are now in our rearview mirror and we're pulling away.
Mother Nature had some strong helping hands here---names like Senator Bill Golden, Mass. Superior Court Judge Paul Garrity, the Conservation Law Foundation, and the legendary Senate President Bill Bulger.
Senator Bulger could cut through all the technical language of lawsuits and finger-pointing with two powerful words---"ear infections". He pointed out that the thousands of families who flocked to Boston's beaches to escape the searing heat of summer ran a very high risk of ear infections, brought on by years of dumping barely treated sewage directly into the harbor. Those families had no other recreational outlets, no summer homes on the Cape, no summer cabins by the lakes of New Hampshire. Their one recreational opportunity had been turned into a public toilet and Bulger was determined to act.
From the legal and legislative efforts of Golden, Garrity, CLF, Bulger and many others emerged that age-old remedy to a political can kicked continually down the road---"an authority". It's a quasi-public entity with a singular focus and the power to do its job without distraction. It's time to meet the MWRA and to applaud the miracles they've achieved.
Some miracles we only read about in Scripture, miracles wrought by the hand of God. This miracle, the miracle of Boston Harbor, has occurred right in front of our eyes and has been wrought by Team Laskey, a dedicated group of public employees lead by the almost anonymous and virtually unsung Fred Laskey. Their accomplishments are the epitome of public service and they should take a bow.
Knowing Fred Laskey however, and the dedication of the MWRA team, the bow will be brief and they will remind themselves that there's important work to be done.
Consider the scale and scope of that work. They provide fresh clean drinking water and/or sewerage treatment services for almost three million residents and 61 communities in Eastern Massachusetts. The water issue alone is staggering in its importance to the state's economy. Just ask the Governors of California, New Mexico, Arizona, Texas and other western states about the value and importance of abundant water. Credit to Laskey and company for bringing the early vision of the Quabbin and Wachusett reservoir system into the 21st century. It's no accident that Boston's drinking water is considered the best in the country.
In fact, I've often teased myself with the thought that there's lots of money to be made by constructing a pipeline from Boston to Texas and selling them that legendary sweet Boston water. Forget the Keystone Pipeline, oil, and gas. The real money is in clean water.
Back to Laskey and his team for a moment. They have built amazing infrastructure on time and within budget. The daily sewerage needs of thousands of businesses and millions of residents are addressed by engineers and scientists and laborers deploying advanced technologies. Raw sewage is long gone, sewer overflows are a thing of the past, Cape waters have remained utterly pristine, and Boston Harbor is beautifully restored. Flounder and striped bass are back, ear infections are gone.
I challenge Mr. Laskey on the issue of maintenance. That is always the first can that gets kicked down the road when budgets get pinched……….we all do it with our cars and our homes when our personal circumstances go south. Laskey's response is to pull out a maintenance schedule that would astound NASA's engineers. He has reversed the old equation of deferring maintenance as a first resort to any difficulty. Rather, diligent maintenance of the system's components is "job one", the highest priority of his team. I detect an almost religious fervor on the issue………………
Around the world and in many forms, Mother Nature stands silent and majestic. When alone and unsullied by man we are reduced to awe in her presence. When beaten and abused by man, her silence is an indictment of our shabby values. I suspect that if she were to shed her silence and talk to us now she would thank us for lending those helping hands. To Laskey and Levy, to McDonald and Golden, to Bulger and Garrity, to Mazzone and Stearns, to CLF and Ciolek, and so many others, Mother Nature now wears a smile. Thanks to them, families play beside clean green waters. Thanks to them there are no more ear infections. Thank you and well done.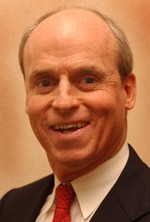 Tom Finneran is the former Speaker of the Massachusetts House of Representatives, served as the head the Massachusetts Biotechnology Council, and was a longstanding radio voice in Boston radio.
Related Articles
Enjoy this post? Share it with others.