Finneran: Let's Just Call it Crazy
Friday, June 09, 2017
Let's just call it crazy. I know that in our hyper-sensitive age someone somewhere will be offended by such hate speech, but where I come from, crazy is crazy.
Perhaps you saw the Globe headline. If you did you undoubtedly shook your head and said, "that's crazy".
Oddly enough, this time around it was not just another absurd Globe opinion. No sir. Rather, this time the headline conveyed an accurate report of someone else's nutty opinion.
The subject was Boston's City Hall and the opinion was that it is one of the ten most beautiful City Halls in America. Truly nutty!
It is the ugliest building in Boston. And while there are some truly hideous buildings in Boston, City Hall easily tops the list for sheer unmitigated ugliness.
Think of a prison. Or of an East German border outpost, designed to hold people at bay. As an adjective, "ugly" does not do the building justice.
Now I am not an architect. I don't pretend to understand a building's lines or its essential functionality from a professional perspective. As a civilian, I hold architects in high esteem for their grasp of engineering, design, building materials, and building systems. I defer to much of their professional opinion.
But architects drink just like the rest of us and those who worked on Boston City Hall must have been on a year-long bender on some really strong mash whiskey. Then, after sobering up, they had to pull the wool over our eyes with the same type of balderdash we get from certain vintners and modern artists.
VINTNER: The bouquet carries a subtle hint of Romanov intrigue, overlaid with cherry, lavender, and cinnamon flavors lying lightly on the palate. Huh? This is the essence of pomposity and pretension. What a load of bull. It's nothing but a high-priced hustle.......I'll stick with the house merlot.
MODERN ARTIST: Describing a broken men's urinal, goose droppings, a truck tire, and a French horn, the artist mumbles about the clash of cultures, the patriarchy, the Pope, and our inner sensibilities yearning to break the bonds of the bourgeois. Here too is a load of nonsense, probably subsidized by the saps known as taxpayers, and described in awed and hushed tones about its daring originality. The exhibit, along with the artist, should be dumped in a landfill.
Back to City Hall. If this is one of the ten most beautiful City Halls in America then shame on America. I'll bet that there are ten more beautiful City Halls in Worcester County alone.
Indeed, how does anyone put the word "beautiful" in the same sentence as City Hall?
When I'm inside City Hall I feel as if I'm trapped. There is no natural light. There are long corridors leading to other long corridors leading to other long corridors which lead to nowhere. When I'm approaching City Hall from outside, I'm actually reminded of Checkpoint Charlie, the notorious crossing between East and West Berlin, manned by East German soldiers, always eager for some target practice on real humans.
Look at those slits in the building's ugly exterior concrete skin. You can easily envision the machine guns with their overlapping fields of fire, perfectly copied from the bunkers of World War II. How inviting.
A very pleasant and intelligent architect with whom I have worked thinks that I'm a Philistine, blind to the building's unique character. Let's just say that we have agreed to disagree on the matter. I do point out to her that even City Hall's very few fans describe the building as being in the "Brutalist style".
Need I say more? Brutalist indeed. It is brutal on the eyes. It is brutal to experience it. It deserves to be carried away and given a brutal burial. The resultant hole in the ground would be more beautiful than the monstrosity there now.
And that's not crazy.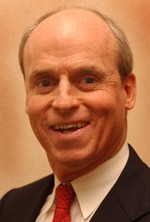 Tom Finneran is the former Speaker of the Massachusetts House of Representatives, served as the head the Massachusetts Biotechnology Council, and was a longstanding radio voice in Boston radio
.
---
Related Slideshow: Worcester's 25 Wealthiest and Most Influential
Related Articles
Enjoy this post? Share it with others.