Finneran: My Brother's Funeral
Friday, June 17, 2016
It all feels unreal. One of my big brothers is dead.

He died last week on what would have been our Mom's 96th birthday. He was her firstborn child, the oldest of seven boisterous children. I have consoled myself with the thought that he gave her a great birthday present, his return to her side for eternal life.

My Mom was a devout Catholic, a daily communicant and a prayerful faith-filled woman. My brother Billy was not quite as devout, not quite as regular a communicant, not quite as faith-filled. The racetrack, as opposed to the Church, was Billy's hangout, his favorite parish. And yet my Mom found great joy in joining him for a day or a week at the ponies. Suffolk and Saratoga were delightful destinations for the two of them.

My Mom's church for the last fifty plus years of her life was St. Gregory's Church in Dorchester Lower Mills. It is a beautiful church, the site for our daughters' weddings and the baptism of our seven grandchildren.

St. Greg's was packed on Monday for Billy's funeral service. Mom had to be pleased.

My brother Billy was a character, a man of whom a million stories could be told. As a family friend noted Billy was "ESPN and Sports Center before they were invented. He could give Don Rickles lessons in sarcasm and satire". He was never at a loss for words or wisecracks and he offered them at about a thousand miles an hour. As a Finneran he was "often in error, never in doubt". It's a family weakness. We all blame the old man, as crazy, occasionally charming, and always opinionated a guy as you could ever meet.

The Irish like to talk about giving their dead a good sendoff. Billy sure had one on Monday. There was a large loud crowd of friends and relatives, all hungry and all thirsty. Some were so thirsty that they are still drinking several days later. And they're not drinking soda water...............

My brother had some of the most intensely loyal and loving friends that you could imagine. His journey was a tough one these past few months as he battled both heart trouble and brain cancer. We all knew what the outcome of those battles would be and we watched his decline. That decline was made bearable, even joyful, by the almost constant presence of his many friends singing, joking, laughing, and reminiscing. He loved their company.

Billy was not a big man. But he was an athlete, a good athlete. And many in the crowd at the Church and at the reception recalled his skill. He was fast, strong, and tough, playing football and baseball with joy, and taking great pleasure from the shared achievements of his teammates. At a later stage in life he took the same joy from watching his sons and daughters play and thrive at their chosen sports.

A lover of nature and of nightlife, Billy could be a bundle of contradiction. In his final quieter years he loved to watch for the Spring return of the nesting birds and of the orioles and the ospreys in his Cape neighborhood. Spring heralded baseball, which heralded summer and Saratoga, which heralded autumn and football. These were the seasonal constellations in Billy's world.

I've cried a lot these past few days, sometimes all alone and sometimes at the sight of my brothers and sisters struggling with their own tears. We gave our big brother our love and our thanks. And we gave him a good sendoff.

To my big brother Billy, rest in peace.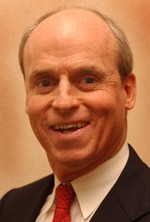 Tom Finneran is the former Speaker of the Massachusetts House of Representatives, served as the head the Massachusetts Biotechnology Council, and was a longstanding radio voice in Boston radio.
Related Articles
Enjoy this post? Share it with others.