Finneran: Not Black, Not White, Just Sweet
Friday, July 15, 2016
Where and when does the issue of race go off the rails? How does it happen? What do parents do or say that begins to turn innocent and sweet youngsters into racially suspicious or even hostile teenagers and adults?

I've thought of this often as I've watched my children grow and engage with all sorts of children of all sorts of colors. I've thought of this even more as I watch my grandchildren play so nicely with classmates and teammates. There is a true color-blindness in children that should embarrass adults. As I watch those children at play I think "not black, not white, just sweet".

And yet I know that at some point in their lives someone will get in their face or whisper in their ear about "they" or "you folks" or "those people", pointing out some individual's shortcomings as indicative of an entire group. The group could be Southerners, Northerners, black folks, white folks, or even dead folks. For some reason we can't seem to let go of the ethnic tribal nonsense that divides us.

Yet there is so much common ground. Here's what I know about my many black neighbors:

"They" want good schools for their children. "They" want safe streets and playgrounds for their families. "They" hope to see their sons and daughters go off to a good college. "They" hope to see their sons and daughters happily married and raising their own children. "They" want a fair shot at a good job for themselves and their children. "They" like to see police officers patrolling the neighborhood and firefighters responding to life's occasional emergencies.

So somebody has to tell me how "they" are any different from Irish, Italian, Chinese, Japanese, German, or Polish folks. Former Mayor Ray Flynn of Boston used to make this point over and over again---that there is far far more that unites us than that which divides us. Mayor Flynn was right.

Which brings me to another point:

How is it controversial to say that ALL LIVES MATTER? Where is the controversy? Who dares to dispute it? Say it aloud---"ALL LIVES MATTER". Black lives, white lives, cops' lives, children's lives, every life matters. To dispute this is to deny humanity.

And while we're at it, let me offer two pieces of advice:

1) Let's forget black and let's forget white. Let's practice golden as in the Golden Rule, treating others as we would like to be treated. How's that for revolutionary thinking?

2) Let's make sure that our children are taught to respect police authority. Listen closely, respond as instructed, and avoid the words and actions which can quickly escalate into a dangerous no-win situation. Keep your hands in view at all times and when reaching for your license or registration let the police officer know where it is and how you intend to retrieve it. This is basic common sense for any driver in any state.

A final thought. I have never seen such a Christian impulse of forgiveness and prayer than that which we saw in South Carolina last year. You will recall that a vicious and evil racist, one Dylann Roof, thought that he would start a race war through the cold-blooded slaughter of a black congregation gathered in worship.

The families of those who were murdered denied Mr. Roof his evil wish. Rather they offered prayer and forgiveness, setting an example for us, an example which completely contradicts the narrative of "they" or "those folks", the narrative of irreconcilable differences.

Remember that example of Christian love the next time someone whispers a slander against a particular group.

And remember "not black, not white, just sweet".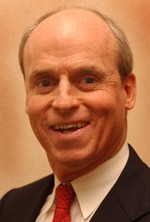 Tom Finneran is the former Speaker of the Massachusetts House of Representatives, served as the head the Massachusetts Biotechnology Council, and was a longstanding radio voice in Boston radio.
Related Articles
Enjoy this post? Share it with others.