Finneran: Of Topsfield And Tomatoes
Friday, September 15, 2017
Another New England winter is peeking around the corner.
The days grow shorter. Nights have a nip in the air. Ocean waters carry a seasonal chill.
But it's only September and you can push back in a hundred ways..........
Take a look at those tomatoes on the right. My brother-in-law had a good harvest this year---a lot better than mine---and he has generously shared the excess with me.
A sprinkle of sea salt, a slice of extra sharp Vermont cheddar, and about five minutes under the broiler gives you a little taste of heaven on earth.
Even into October you can harvest the green tomatoes on your vines. You can let them slowly ripen in a brown lunch bag or you can slice them, bread them, and fry them as is. Recipes abound. Delicious.
Apples are also in abundance. How about some tangy fresh-picked McIntosh apples? There are many great varieties but in my book fresh Macs are the best.
I planted my own pie pumpkins too late this year so I'm out of luck with a home harvest. My Plan B is a trip to a local fruit center or farmer's market for such pumpkins and then to make a soup stock from those orange beauties. The aroma of a simmering soup dish on some cold winter evening will bring even more good cheer than a vodka gimlet. Healthier too.
A leading public figure here in Massachusetts---not to be identified in this space---is a foodie. Given his crazy schedule it is impossible for him to tend to a serious garden. His alternate arrangement is to have a friend handle the nurture and harvest of a lot of tomato plants. He then sets aside a late summer or early fall weekend for converting that harvest into many jars of tomato sauce, to be shared 50-50 with his friend. It's an arrangement that works well for all parties, so well in fact that they each look forward to blizzard forecasts for breaking out the bounty of summer. A couple of jars of sauce on low simmer for several hours will fill their homes with heaven's scents. Appetites sharpen and a good round of snow shoveling seems like a walk in the park.
Keep an eye on those 10 day forecasts. They can give you a little preview of good weather ahead, allowing you to schedule some fall golf with friends. I've golfed as late as Thanksgiving weekend and I have some friends---admittedly crazy---who have made it into December a few times.
Warm afternoons can entice you into late-season swims. I regularly swim in the ocean in October, the only adjustment from a summer swim being the need for a post-swim hooded sweatshirt.
Agricultural fairs are a great New England tradition and a boatload of fun. The Big E serves Western Massachusetts communities and the Topsfield Fair handles Greater Boston visitors. Tractor pulls, poultry competitions, amusement rides, livestock, the Clydesdales, and creative food vendors provide a great day of entertainment for all ages. I've taken the grandchildren for several years, often letting them play hooky for a day away from school. Don't say a word but I'm likely to surprise them again this year. Topsfield never gets old.
One last thought---visit the bee house at Topsfield. Local honey, hand-made soaps and candles, and some very nice people make it a special place. Talk to the beekeepers. They love their bees and people too. Ask questions. Buy some honey. And admire Nature's nicest and hardest-working creatures.
Summer lingers. Enjoy.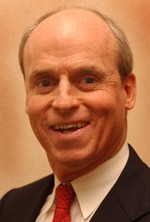 Tom Finneran is the former Speaker of the Massachusetts House of Representatives, served as the head the Massachusetts Biotechnology Council, and was a longstanding radio voice in Boston radio.
---
Related Slideshow: 20 Can't Miss Fall Festivals in New England - 2017
Related Articles
Enjoy this post? Share it with others.