Finneran: On Ninkovich
Friday, August 04, 2017
Ninkovich. Just the name sounds sturdy. Sturdy as steel.
The Patriots first loss of the season did not occur against an NFL rival. Rather it occurred in the life and the mind of Rob Ninkovich when he announced his retirement from football earlier this week.
After eleven seasons in the league, the last eight as a Patriot, this talented linebacker/ defensive end called it a day.
His career offers lessons to all of us---lessons on versatility, dependability, preparation, and opportunity. To say that he was a good football player is an understatement. He played a solid game week in and week out for eight straight years. He helped all his teammates play better as well.
His family roots are in Croatia, the same as a coach named Belichick. Belichick thinks that all Croats are tough and strong. Winston Churchill thought so too. Truth be told, those Eastern European bloodlines are impressive. Big bones, strong legs, massive chests and shoulders, all made stronger and more durable as they have wrestled their spare livelihoods from hard ground.
They came to America and helped build it. They dug coal and iron ore, they poured molten steel, and they farmed thousands of acres across New York, West Virginia, Pennsylvania, Ohio, and Illinois. They worked so hard at hard occupations that the brutal game of football was like a game of tag to them. It was fun.
A few other names will make the point---Nitschke, Butkus, Gronkowski. I call it the "k"s of Eastern Europe. The "k" in the spelling is a telltale sign of their ancient homelands.
A modern curiosity---Ninkovich, Butkus, and Nitschke were all born in Illinois. Perhaps that state should be called the Linebacker State.
It's ironic to ponder the role of injuries in the careers of football players. Ninkovich was hurt for his first season or two before coming here, and, in his own words, facing the end of his career before it even started. He survived the cut and then made some history here in New England.
Tom Brady's stellar career makes the point as well. But for a thumping hit on Drew Bledsoe, Brady may have ended up holding a clipboard on the sideline for several years. But Bledsoe was injured and Brady played well as his replacement. When Bledsoe returned he did so with a very competitive performance. But the die was cast, and the door which had opened for Tom Brady then closed on Drew Bledsoe.
Remember too that Tom Brady was passed over 198 times before he was drafted in the sixth round of the 2000 draft. To imagine that there were 198 better football players than Tom Brady that year is to break out laughing. The Patriots got lucky, very lucky, as the other teams missed the boat on multiple opportunities. For a great lesson in humility go check the 2000 NFL draft. The most knowledgeable football folks in the nation spent their time, money, and professional credibility on a large group of players who remained essentially anonymous for their careers.
It has been reported that Tom Brady cried on the night of the draft as the second, third, fourth, and fifth rounds slipped away, before finally being taken by the Patriots. Perhaps the scouts and coaches who passed him by that night have been crying ever since...............
So Rob Ninkovich, a Boilermaker from Purdue, now joins an illustrious list of Patriots alumni. He gave full service to his team and many memories to the fans.
He will be missed. Godspeed to him and his family.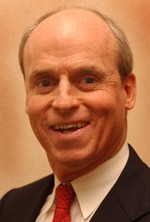 Tom Finneran is the former Speaker of the Massachusetts House of Representatives, served as the head the Massachusetts Biotechnology Council, and was a longstanding radio voice in Boston radio.
---
Related Slideshow: Everything to Need to Know About Patriots 2017 Training Camp
Related Articles
Enjoy this post? Share it with others.