Finneran: One Nation/Many Cultures—One Nation/Many Tongues - Part 2
Friday, November 18, 2016
It's been more than a week since the election ended and the Republic still endures. Go figure.
My West Point trip with three of my grandsons was, as reported last week, simply spectacular. It was conspicuously reassuring about America's future leaders, the cadets of both the Army and Air Force Academies. It was also instructive about America's capacity for ethnic absorption.
We were based in New York City. We took in the multiple sights and sounds of the city on Friday and Sunday while spending all day Saturday walking the campus and parade grounds of West Point.
Those NYC sights and sounds were the backdrop for the final weekend of the presidential campaign with all its dire rhetoric and doomsday predictions.
For those Americans who are too tightly wound in the aftermath of the election I have some advice--- have some wine, calm down, and go to NYC. There you will see a multi-cultural steadiness in the response to the world's great events. You'll also see that unique New York humor in the face of the world's more farcical events. Leave it to New Yorkers to yawn at everything, the big and the small. You could learn a valuable life lesson there.
I have a nephew at NYU so the boys and I went there for a quick visit. The cab ride was instructive.
The cabbie was Chinese by birth and New York by choice, having come to America more than thirty years ago. He grew up in a small village in rural China, a quiet hamlet of less than 90 people. Now he's right at home in the midst of eight million very noisy people. He maneuvered our conversation to the presidential race, offering his commentary on Mrs. Clinton and Mr. Trump.
He admired Hillary's dogged determination but he was not voting for her. He had concluded that Mr. Trump would be a better President, less tied down by political calculation and correctness and more likely to make some tough but necessary decisions. He thought Hillary's motivation was an unquenchable quest for power, a "my turn" mindset, encumbered by political and party debts, similar to what he had seen in China many years ago.
Needless to say, I was fascinated by his frank conversation about Communist party officials in China and his observations of American politics. My Chinese cabbie was a self-styled political science professor in mid-semester lecturing form!! Only in America and only in New York............
Moving around New York on foot is an education. You hear multiple languages on every street corner (it is reported that the NYC public school students speak 176 different languages). You see every skin tone imaginable and, perhaps wondrously to the media's racial agitators, no one pays the slightest attention to the variations. In some strange way this crazy city of practiced rudeness and conspicuous excess seems to have captured the biblical command of simple acceptance, of every human being having been made in the image and likeness of the Creator. Admittedly New Yorkers might need a bit more work on manners, but then again no one is perfect.
Here you see fully garbed Muslims shoulder to peaceful shoulder with Orthodox Jews, here you see black folks and white folks sharing subways, sidewalks, food, and jokes, here you see all the natives amused, exasperated, and enriched by all the gawking tourists...............I'm a city kid all my life and even I am dazzled by the height of those buildings and the bustle of the streets. So I gawked too along with my grandsons.
I was reminded of the lyrics from the musical "Annie"---
"NYC, what is it about you?
NYC.
The shadows at sundown,
The roofs, that scrape, the sky.
NYC.
The rich and the rundown,
The big parade goes by.
What other town has the Empire State
And a Mayor five foot two?
No other town in the whole forty-eight
Can half compare to you.
You crowd, you cramp,
You're still the champ,
Amen to NYC."
It's an amazing city, both charming and repellent, a fascinating tableau of those 176 languages, and one nation under God.
Here's proof that God has a sense of humor and here's proof that the Republic will endure.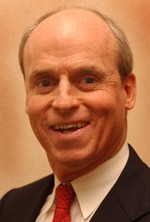 Tom Finneran is the former Speaker of the Massachusetts House of Representatives, served as the head the Massachusetts Biotechnology Council, and was a longstanding radio voice in Boston radio.
Related Articles
Enjoy this post? Share it with others.