Finneran: One Nation—Many Cultures/ One Nation—Many Tongues - Part 1
Friday, November 11, 2016
The 2016 elections are over. The Republic endures.
Both Hillary Clinton and Donald Trump offered pleasant conciliatory remarks to the American people and to each other. It's a good start.
For the most part the American people seem to be yearning for common sense and united action on the problems afflicting the nation. Toward that end, I think that Mr. Trump's initial focus on improving veterans' lives and investing in the nation's infrastructure are worthy goals. They are also politically astute as those issues will draw broad bipartisan support from the Congress. Who knows, 2017 might prove to be a very productive year in Washington D.C.
The election was fought out over two competing slogans. Mrs. Clinton embraced an everything-is-wonderful theme of keeping America great. Mr. Trump embraced an everything-is-falling apart theme of making America great again.
I had the benefit of some inside knowledge, gleaned at a college football game last weekend. That inside knowledge told me that each slogan was accurate, at least with regard to America's greatness.
For you see, I was at West Point last Saturday to watch Army take on Air Force on a gorgeous autumn day.
No rational American citizen could ever doubt that the young cadets of the service academies reflect the best of American society. Nor could any rational American citizen ever doubt that those young cadets augur well for America's continued greatness. Excellence in academics, sports, teamwork, and unit cohesion are impressive to behold in 17, 18, and 19 year old kids.
These young men and women (in surprising number) are well-spoken. They are courteous and respectful. They are self-disciplined. They bear a quiet pride in themselves and in their dress.
Their pride is matched in the faces and voices of their parents and grandparents. Sitting among those parents and grandparents in the stands was informative. Some wore Clinton campaign buttons, some wore Trump buttons. Yet obvious political differences could not mask every parent's sure confidence that America's present and future greatness lay within the minds, hearts, and souls of the young cadets.
I was with three of my grandsons for the game and we talked to many of the cadets. They hailed from Wyoming, Nebraska, Wisconsin, Puerto Rico, Rhode Island, Massachusetts, Georgia and many other states. They looked so young yet seemed so poised. They were brown, black, white, and mixed. Deep South culture blended with Carribean Island culture. Western prairie culture blended with Northeast and Northwest culture. As the saying goes, only in America......................the cookouts and tailgates must be a blast.
It is surely a strength of America that its diversity reflects its appeal. I am not a bean-counter. I do not like quotas. I like merit and talent and achievement. I admire effort, desire, and determination. And those white, black, brown, and mixed Americans who came here from far away---some willingly and some unwillingly, some recently and some long ago—from Germany, from China, from Poland and Russia, from Japan and South America, from Ireland and Scotland, from Africa and the Middle East, from Italy, India, and France saw something from afar. They saw a land where skin color or religion or class origin mattered less than was the case in their native lands. They saw a land that rewarded effort and skill. They saw freedom and they tasted opportunity. They loved America. And America loved them back.
One of the young cadets I spoke with looked about fifteen years old. He was from Puerto Rico. He is a "plebe", a freshman who just started at the Academy. I asked him about "beast week", the brutal Army indoctrination into reveille, drill, dress, classes, discipline, and physical training. He smiled a little sheepishly at my question and said---
"It was pretty tough Sir. But the worst is behind me Sir and I'll be proud to become an American soldier."
Wow. We are one nation of many cultures. And the Republic will survive.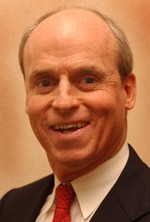 Tom Finneran is the former Speaker of the Massachusetts House of Representatives, served as the head the Massachusetts Biotechnology Council, and was a longstanding radio voice in Boston radio.
---
Related Slideshow: 10 Ways Bernie Sanders and Donald Trump Are Actually Similar
Related Articles
Enjoy this post? Share it with others.