Finneran: Pokemon Go—-Go Far Far Away
Friday, August 26, 2016
America's doom seems near. Her children are catatonic loners.

Eye contact with other human beings is rare. Conversation with other human beings is rarer still. Ballfields stand empty in the summer sun. The notion of spontaneous outdoor play seems both foreign and frightening for far too many parents and their kids. Everyone seems glued to an IPad or Smartphone. Facebook rules. "Friends" are actually strangers.

Once upon a time a bat, ball, and glove was all any red-blooded American kid needed to spend a happy day. Rainy days may have presented a challenge but that challenge was met by a deck of playing cards.

A few simple things sufficed to educate even the youngest child in conversation and human affairs.

The subject came up at a recent dinner with friends as we recalled the many games we played at family gatherings. Every occasion, graduations, holidays, even funerals provided an opportunity to break out the playing cards.

War, Go Fish, Solitaire, and other simple games were the initiation. The graduate courses were in Whist, Cribbage, Bridge, Blackjack, and Poker. Grandmothers often lead the action. Grandchildren were thrilled to join them.

And all the time, with every shuffle of the deck, with every card that was dealt there were several conversations going on at once. The topics could be sports, report cards, politics, history, the weird neighbors down the street, favorite vacation spots, stories about long deceased relatives and friends, lousy jobs, good jobs, books, good teachers, bosses, neighborhood bullies, neighborhood heroes, co-workers, movies, etc. In short, conversation on the human condition and human drama were part of the family ecosystem. In such an atmosphere, everyone, child and adult alike, learned how to listen and learned how to speak.

Not so today. Today young men run the real risk of disemboweling themselves as the walk into groin-level hydrants while fixated on some screen. Young women stroll blindly and obliviously into streams of traffic, utterly hypnotized by social media drivel. Let's not sugarcoat the reality here. These are stupid people, complete strangers to conversation and common sense.

These misfits will likely need corrective spinal surgery at an early age. Heads down, necks stretched, backs curved, brains clogged is not a healthy formula. Readers of a certain age will recall the old-school emphasis on posture—head up, eyes trained, shoulders squared, and backs straight, facing the world with confidence. Unslouched. Those who were lucky enough to have nuns or religious brothers in school often got punched out for slouching. Those were the good old days.

A wise sister-in-law is waging a noble fight against the modern tides. Her house is big enough to absorb the brothers, sisters, nieces, nephews, grandchildren and family friends who gather on holidays. Christmas, New Year's Day, Easter, July 4th, and Thanksgiving provide steady opportunities for her hospitality. And last year, in a flash of absolute brilliance, she put a wicker basket by the front door and announced a splendid rule---ALL CELLPHONES AND IPADS GO INTO THE BASKET, TO BE RETRIEVED AT DEPARTURE.

The teenagers' reaction to this delightful dictate was one of bewilderment. They did not know what to do. But the human spirit is resilient and the human soul finds its way---within twenty minutes of being freed from their electronic dungeons they were talking and laughing as normal beings are inclined to do. A revolution had occurred, short-lived to be sure, but a revolution nonetheless.

So to Pokemon Go I say---go, go, go, far, far away. I'm fine with a bat, a ball and a deck of cards.

It's your deal.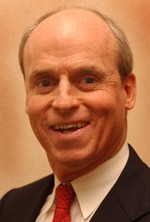 Tom Finneran is the former Speaker of the Massachusetts House of Representatives, served as the head the Massachusetts Biotechnology Council, and was a longstanding radio voice in Boston radio.
Related Articles
Enjoy this post? Share it with others.