Finneran: Super Bowl Sunday
Friday, February 03, 2017
The highways of New England will be very safe on Sunday afternoon and evening. You could turn the Turnpike and the Expressway into pedestrian malls. There will be no one on the road. All eyes will be on the big screens in our family rooms.
Every pizza joint and every restaurant that has take-out will be swamped. More than one hundred million people will watch this great American spectacle of excess.
As for me, I'm already tired of the breathless hype. I just want to see a good football game.
So far there have only been two truly entertaining games in the NFL's "real season". Consider "wild card weekend", played in early January............there was nothing even remotely competitive about those games. Call them snooze fests, with the coin toss being the most suspenseful moment in each game. Yawn.
The next weekend was very different with two seesaw games unfolding before our eyes. That Green Bay- Dallas game was fabulous. There we had two good teams just slugging it out and going right down to the wire, with Aaron Rodgers' heroics taking on storybook status as the Packers drove the field for a field goal in the final seconds. Now that's pressure, that's suspense, that's football.
The other noteworthy game that weekend was the Steelers-Chiefs game. While that game lacked the spectacular offenses of the Dallas-Green Bay game, the score tells you that this was a bruising battle of two proud and hungry teams. I'll watch and enjoy an 18-16 football game any day of the week.........
Finally, beyond the joy of Patriots' fans celebrating the team's easy win over the Steelers, can anyone truly say that they saw a good football game? The Patriots absolutely smoked them. The Steelers seemed poorly prepared, completely unable to cover any Patriots receivers. Talk about an invitation to All-Universe QB Tom Brady to help himself..........I'm surprised that they didn't put sixty points on the board. I lost count of how many times Brady would hit a receiver right in the hands and there would not be a single Steeler defender within five yards of the catch. Then of course, the play would explode from a simple catch to a catch and run. The Patriots made it look like a track meet while the Steelers looked as if they were thinking about their off-season golf games.
The Falcons-Packers game also lacked drama. I was impressed by Atlanta, surprised by the Packers, and disappointed in the game. It was as lopsided a game as the Pats-Steelers with little or no suspense. I had talked myself into a continuation of the Packers' late season surge with Rodgers playing maestro, bringing his team into a season-ending epic Super Bowl battle against TB12, Belichick, and the aura of New England.
Alas, it was not to be as fatigue, turnovers, and a young stud named Matty Ryan dissected and destroyed the Pack.
Looking ahead, I don't see how Atlanta can stop Tom Brady. Of course anything is possible including an injury, a turnover, a trick play or two, or just a bad game. But Tom Brady doesn't play very many bad games and he has been on this stage before. It's a big stage and most newcomers get stage fright. Brady's experience is invaluable.
The Falcons defense has been suspect all year long, often bailed out by the gunslinger Ryan throwing to the unstoppable Julio Jones. But bet on this if nothing else---the Patriots will take Jones out of his game, forcing Atlanta to go elsewhere to move the ball. It's a classic Belichick maneuver and it might be even more entertaining than watching the post-game with Brady and Goodell.
Patriots win. Enjoy the game.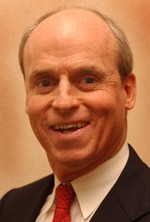 Tom Finneran is the former Speaker of the Massachusetts House of Representatives, served as the head the Massachusetts Biotechnology Council, and was a longstanding radio voice in Boston radio.
---
Related Slideshow: The Patriots 8 Super Bowl Appearances
Related Articles
Enjoy this post? Share it with others.