Finneran: Thankful For
Friday, November 24, 2017
Giving voice to gratitude this weekend and throughout the holiday season, I'm thankful for many things----people, places, stories, human kindness, the wonders of our world, indeed for life itself...........
Our riches are so abundant that we tend to take them for granted, rarely pausing to consider that our lives are blessed far far beyond the lives of earlier generations.
Let's start with people. Teachers who excite and inspire, priests and ministers who counsel and console, doctors who heal. How about engineers and their stunning designs, be they autos or aircraft, soaring bridges or stunning buildings, microscopic medical tools or the immense telescopes scanning our skies? How about poets and authors, musicians and playwrights, all giving voice to the human condition?
A particular profession or achievement is not necessary in order to gain entry to the honor roll of people for whom we are thankful. How about just genuinely nice people? They may be helpful neighbors, civic volunteers, or joyful commuters---you know, like the one who smiles and waves you ahead in the congested on-ramps of life.
Be thankful for life itself. It is truly precious. And it is nowhere nearly as appreciated as it should be. Any doubts about the miracle and gift of human life? Ask an infertile couple about it. Or a Gold Star mother. Or a widow. Or an orphan. Cherish the gift.
Here's a great story, taken in its entirety from the pages of National Review magazine (a great magazine btw):
A big international judo competition was held in Abu Dhabi. Israelis participated—though they were the only participants forbidden to attach their national flag to their clothing. One of them, Tal Flicker, won a gold medal. At the medal ceremony, the Israeli flag was not raised. In its place was the flag of the International Judo Federation. The Israeli national anthem ("Hatikvah") was not played. In its place was the anthem of the International Judo Federation. There on the stand, the gold medalist sang his national anthem anyway. "The anthem that they played from the world federation was just background noise," he later said. "I was singing 'Hatikvah' from my heart."
How's that for one of life's golden moments? Tal has stones. Tal has class. Tal has dignity and grace. God bless Tal.
I'm thankful for certain places, places near and places far. Boston is a beautiful walkable livable vibrant city. Boston Harbor and its islands hold my devoted attention. As does magnificent Cape Cod.
Going abroad someday? Spend some time in Rome.......lots of time. Venice too. Vienna and Prague are striking cities. Paris anyone....spectacular Paris? Hong Kong and Sydney, Australia. Jerusalem and Tel Aviv. I've yet to visit London but when I do I'll drink it all in. South Africa too. My wife is just back from Portugal which she loved. Closer to home, I hope to take the grandkids to a lot of our National Parks. They are national treasures.
I'm grateful for the abundance of food in our lives. Too much food? It's a nice problem to have, a "problem" that earlier generations never experienced. Those generations suffered from severe want. Hard and bitter hunger dominated their minds and affected their health.
How about medicine? Or joint replacements? Or intricate surgery? Once upon a time there were three "medicines"---whiskey, aspirin, and penicillin. Penicillin was deemed a miracle, a gift from God. Aspirin and whiskey were used to blunt and mask pain. Today's medicines cure disease, curb hospitalization, and extend life. Those joint replacements restore movement and life to people hobbled with crippling pain.
It's an amazing world we live in........................
One more salute to people we depend upon---firefighters who race into infernos to save people and police officers who have the world's saddest, most difficult, and most thankless tasks of all. They are a daily blessing in our lives.
On this weekend and throughout the Christmas season, just remember that we have much to be thankful for.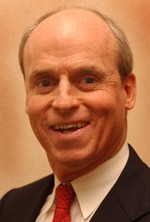 Tom Finneran is the former Speaker of the Massachusetts House of Representatives, served as the head the Massachusetts Biotechnology Council, and was a longstanding radio voice in Boston radio.
---
Related Slideshow: 25 Things You Must do This Fall in New England - 2017
Related Articles
Enjoy this post? Share it with others.