Finneran: That Was Then, This is Now
Friday, October 28, 2016
Fed up with the presidential election?
Me too.
I've had enough, at least until next week.
Let's air out a few gripes...................
END ZONE ANTICS:
I remember Jim Brown. I watched him a lot. He was a fabulous football player. He scored a lot of touchdowns and if given the chance you'd build your entire team around him. He was a Tom Brady-like star before Brady was even born. NFL statistics reveals that Brown scored 126 touchdowns during his legendary career. I can report that he never once spiked the ball or did a ceremonial dance after any of those touchdowns. Rather, he'd get up after the play and simply hand the ball to the nearest referee.
In other words, he was a pro and he acted like a pro. I wonder what he thinks of today's showoffs. The antics now are so over the top that it's laughable. Even defensive players who are simply in on a tackle get up off the pile and dance as if they're All World All-Stars. I remember a defensive back for the Patriots, one Chris Canty, who was a lousy football player and a particularly lousy tackler. Whenever he was near any kind of defensive stop, as rare as it was for him to be in the vicinity of a play, he'd be thumping his chest as if he was a Butkus or Singletary. What a fool.
I miss the old days of pros acting like pros.
But that was then, and this is now.............
AMERICAN STEEL:
Once upon a time American workers made more steel than the rest of the world combined. Today, almost every one of those prodigiously productive American steel mills is rusting away, empty and unused. And the thousands of families who sweated their way into the middle class of Minnesota, Michigan, Ohio, Pennsylvania, and West Virginia have had their livelihoods shuttered as well.
I'm old-fashioned enough to think of steel and steel-making capacity as indicative of a strong, healthy, and confident society. I also think of steel as indispensable to a nation's defense. Ships, tanks, guns, and planes comprise the core of weaponry needed to defend one's way of life from bad actors. Am I the only one to wonder whether we still have the capacity to be the arsenal of freedom?
I miss the pictures of strong Americans making steel.
But that was then, and this is now...............
ZOMBIE MILLENIALS:
How about those millennials, all around you wherever you go and nary a bit of eye contact? Surely some spinal orthopedic guy will coin a specific phrase for the curvature of the neck and spine caused by unending microscopic scrutiny of one's cellphone. How about Nokia neck syndrome? How about Apple atrophy? Or Samsung spinal tap?
Such ailments are inevitable given that almost half the population stares at their phone screen from the moment they rise to the moment they fall asleep. Might they lift their heads and look at the clouds or the trees? Might they take note of a beautiful building, a park, or a meadow? Perhaps there's a bird to see, a soaring hawk or a beautiful Baltimore oriole. Might they lift their heads and notice a fellow human being? Heaven forbid, might they ever make eye contact?
Once upon a time, when normalcy reigned, human beings actually looked at each other. Eye contact was a given and a non-committal nod was just basic human courtesy, the equivalent of saying "good morning" to someone.
Conversation actually occurred between people of all ages, real human speech rather than the abomination of mis-spelled text messages and ignorant abbreviations. Shrly u unrstan? C u soon.
Gone are the days of conversation. We now live in an electronic bubble. And notwithstanding the every hour of every day tap-tap-tap of little keyboards, no one really writes anything anymore. We're all OMG, LOL creatures, at a loss for real words with real meaning for real people.
I remember writing note cards---little thank you cards to people who might have made a special effort on a special project. There was both a joy and a challenge in trying to make each of twenty or more note cards individually unique rather than merely repetitive boilerplate language.
I miss the old days when children and students were taught the importance of such gestures.
But that was then and this is now.........................................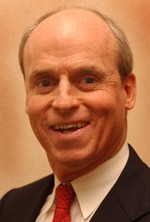 Tom Finneran is the former Speaker of the Massachusetts House of Representatives, served as the head the Massachusetts Biotechnology Council, and was a longstanding radio voice in Boston radio.
Related Articles
Enjoy this post? Share it with others.