Finneran: The Abuse of Language
Friday, December 01, 2017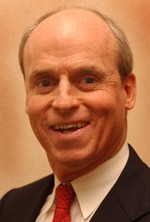 I call it the abuse of language. Actually, it's more like the outright torture of language, tugging and twisting common sense words beyond any rational meaning.
Take the word "endangered" when it is used to describe the status of certain species of animals. For example, the massive seal herds of Chatham are comprised of "endangered" seals. The herds are now so large that they can be seen from outer space via NASA satellite photographs.
Endangered?? Thousands and thousands of seals, breeding, defecating, and completely off-limits to even a limited culling effort, are most emphatically not endangered.
Rather, public health is endangered. Public safety too.
Consider the utterly predictable arrival of scores of great white sharks lurking in the swimming waters of the National Seashore and Cape Cod Bay. Who can blame the sharks for prowling in such stunning numbers to feast upon their favorite prey?
Both the seals and the sharks are now there in such overwhelming number that the next utterly predictable event is a shark attack upon swimmers. Call me old-fashioned but my moral hierarchy puts a higher value on human life than it does on a fat foul seal. And while the presence of sharks is "exciting" in an abstract way, it will not be a happy event when one strikes a swimmer in mid-summer season.
There have been dozens of many close calls already. And while a strong full-grown adult may or may not be able to shake off a shark attack, a child riding the waves or playing in the surf will not be so fortunate. Cape Cod National Seashore beaches have been shut down for some part of virtually every single day of the summer season. The sharks have also migrated around the tip of the Cape and they now prowl the bay itself—host to water skiiers, tubing, snorkelers, swimmers, and kayakers. We are playing a dangerous game of Russian roulette with powerful predators.
Such a state of affairs is not a triumph of conservation. Rather it is a triumph of mushy wishful thinking, a form of thinking that places human beings on a par with seals. After all, the seals were here first and we're the intruders—so goes the ludicrous analysis. Seduced by their alleged "cuteness" and swayed by a cult-like worship, we demean our beastly fellow humans and elevate those natural creatures into God-like status.
Consider the public agitation over an extremely limited deer hunt in the Blue Hills Reservation area of Greater Boston. The hunt was instituted a year or two ago in the face of emaciated and diseased deer herds. The sheer numbers of deer have stripped the area of sufficient vegetation to support the herds, leading to starvation and health complications. The absence of any natural predators—wolves, bears, mountain lions—has lead to an unsustainable explosion of the deer population and thus the institution of a limited hunt in order to cull the herd to a healthy balance. The public hand-wringing over the hunt illuminates an elevation of Bambi-worship over common sense.
Let's migrate for a moment to consider the outright plague of Canada geese. Is there a more aggressive, foul, obnoxious poop machine on the planet? I think not. They should be slaughtered by the thousands, dressed, cleaned, frozen, and delivered to food pantries around the country and to U.N. relief stations around the world.
What a coup it could be for American diplomacy and what a victory for good old common sense--the delivery of deer and goose food packages to starving people and the elimination of a bird that has ruined swimming ponds, golf, courses, and public ballfields around the country. Good riddance to them.
As for those cute seals, it's never too late to stop abusing the language. Endangered? You've got to be kidding me...............
Tom Finneran is the former Speaker of the Massachusetts House of Representatives, served as the head the Massachusetts Biotechnology Council, and was a longstanding radio voice in Boston radio.
Related Articles
Enjoy this post? Share it with others.