Finneran: The Last Sister's Long Goodbye
Friday, February 24, 2017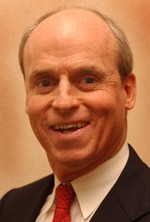 She stood alone, wordlessly staring down at her older sister in the coffin.
As visits go, it was a short one---probably not much more than four or five minutes. Yet to observers, it seemed to capture an earthly forever, an entire lifetime. For you see, the little sister was saying goodbye to her older sister.
Once upon a time there were nine of them. Now there are two left.
These nine talented and faithful brothers and sisters gave the world fifty-eight first cousins. I am one of them.
It's hard to summarize more than eighty years of life together and I suspect that the little sister was skimming a mental treasure chest of memories from childhood to senior citizen status, finding the right words to say thank you, I love you, may God bless you.
They were and are a very Catholic family, filled with faith and an unshakeable belief in eternal life. That there were thousands of silent and not so silent prayers offered during the course of my aunt's five hour wake I have no doubt. The line of well-wishers and friends stretched out the door and down the block, a multi-hour tribute to a great woman and a life well-lived. As the Irish are inclined to say, there was "a good turnout and a good time".
Her eleven children were less stricken than proud. They had buried their father several years ago and they could see that their Mom was not quite as spry as she once was. They knew the road that she was on and they cherished every day, every meal, and every story. They blessed her with thirty-five grandchildren and she blessed every one of those babies as if each was the infant Jesus himself. And they knew, as certainly as they knew their own names, that their Mom was beloved throughout the town.
God, could she shop. Frugally of course. You don't feed and clothe eleven kids without having a jeweler's eye for bargains. She knew every nook and cranny of Filene's Basement and the dates of the automatic markdowns of that legendary store. She eyed bargains better than Belichick eyes draft choices. And, unlike Belichick, she was never dour. Rather she was always of good cheer about her most recent bargain.
Sometime after her children had finished college and begun their own married lives and careers, she went back to work. It so happened that there were a lot of young people where she worked. They loved her.
For you see, those young people became another family to her. They had birthdays which she never forgot and for which she'd make her famous brownies. They got engaged and she never forgot the date of that special day, always accompanied by a card or note, and of course, more brownies. Their weddings and anniversaries got the same treatment, always delivered with a big hug and the warmest smile.
These milestones in the lives of her young colleagues thrilled her. They also gave her an excuse to visit "FBs"---Filene's Basement---in search of just the right shirt or sweater or tie. She became a second mother to these young folks and they came to adore her.
There was a beautiful Mass said for this wonderful woman and a tremendous eulogy offered by one of her sons---moving, funny, wise, and wistful.
I suppose that it's human nature to wish for one more hour, one more day with a loved one and I suspect that that was the wish of everyone who gathered in the church.
I suspect that that was also the sentiment of the little sister standing by her big sister's coffin---one more hour, one more day, one more chance to hug and hold her older sister, to say thank you, I love you, I miss you..........
And the big sister, very quietly, spoke back, promising that she'd hold her a place in Heaven, a place to be filled by a very special family.
Related Articles
Enjoy this post? Share it with others.