Finneran: The Oscars & The Marines
Friday, March 03, 2017
The Oscars and the Marines. One is utterly dispensable. The other is utterly indispensable.
For in a world without the Marines, all we have are Streep, Clooney, and some other intolerant Hollywood poseurs. That's semper surrender rather than semper fidelis.
They talk about "courage" a great deal in Hollywood, particularly on that garish evening dedicated to the Oscars and the fake town's vapid celebrities. Those courageous stars should walk a perimeter patrol, alone, in the dark, thousands of miles from home, say in Afghanistan or Iraq. That's where the click you hear is not a publicist's camera. It's the click of a land mine or a rifle and quite possibly the last sound you'll ever hear.
That's courage. And duty. And honor. And service.
And it's a lot harder to do than to play some social justice hero, putting the always rotten America in some deranged historical perspective, sure to be applauded by the highly educated yet ignorant intelligentsia at the New York Times.
How truly brave all those celluloid stars are, how utterly connected to real life, as they stroll the red carpet in their evening gowns and tuxedos. The only things that they are really connected to are their egos, their agents, and their mirrors. Thus my viewing pleasure on "Oscars night" is really easy---it's anything but the Oscars, usually just a good book.
My wife and I are amused by the hyperventilating build-up to the spectacle---"celebrities" talking about "celebrities", a who's who, who's in, who's out, who will be seen with whom, is the Academy racist, homophobic, too Jewish, anti-Semitic? Such drama! And such nonsense.
Give me a coal miner any day of the week. Not an actor playing a coal miner, but a real coal miner from West Virginia. Or give me a farmer from the Mid-West, running a dairy herd and a thousand acres of wheat, all sweaty and calloused. Said miner and said farmer might lack wealth and fame but they possess a moral sensibility that Hollywood not only lacks but derides.
Which brings me to the Marines and to all the other members of the nation's armed forces.........
Let's not forget that these men and women of the uniform are not a frill. They are essential to our freedom and, perhaps expensively for us, but happily for others, essential to the freedom of many people around the world. These men and women don't get to play at make-believe, nor do they get paid millions for putting on makeup and pretending to be someone they're not.
I suppose that that's the thing---the sheer hypocrisy--- that galls me most about Hollywood. It's all pretense, married to a lecturing, hectoring, condescending attitude about the rest of us, the rubes who work, raise families, and pay the bills. They're all phonies. How else to explain Hollywood's professed love affair with open borders and other inanities, a love uttered by their press agents while the principals hunker down behind the gated walls of their private estates, completely cocooned from certain grim realities........limos, private jets, and muscular armed bodyguards make sure that these paragons of virtue can glide through life completely undisturbed by any actual engagement with real people.
Contrast that hypocrisy and that pat-your-own-back moral pretense with a Marine. Or with any other member of our armed forces. There, what you see is what you get---riding the train or the bus, flying coach, shopping at Walmart, doing without, raising families, coaching kids, serving multiple tours in dangerous lands, speaking courteously and respectfully, and grateful for the opportunity to serve their country.
Much has been written about the phrase "make America great again". Truth be told, there's always been an aspect of America's greatness on vivid display. It can be seen in the thousands of ordinary Americans who want to be a part of something special, something meaningful, something larger than themselves. They become soldiers, sailors, and pilots. They continue an American tradition and they set an American example. They make America great every day. May God bless their work.
This weekend, do something special---skip the movies and thank a Marine.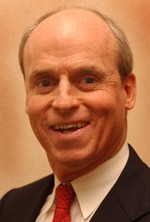 Tom Finneran is the former Speaker of the Massachusetts House of Representatives, served as the head the Massachusetts Biotechnology Council, and was a longstanding radio voice in Boston radio.
Related Articles
Enjoy this post? Share it with others.