Finneran: The Patriots Big Win, My New Hip, And GE…………
Friday, January 22, 2016
THE PATRIOTS BIG WIN: You're probably reading this on Friday, forty-eight hours before the Patriots take the field in the loud stadium of the Denver Broncos. The Patriots will win. Mile High Stadium will fall utterly silent. Take it to the bank.

Gronkowski is healthy. Fired up too. That's a dangerous combination for Denver, particularly their defensive backs. It's hard to stop a freight train. And the freight train is angry.

Julian Edelman is healthy. Motivated too. He's a jack rabbit with muscles, guts, and brains. He often runs his pass patterns off of Gronkowski's big butt, football's version of a pick play. The defensive back loses a step or two trying to get around the great wall of Gronkowski and Brady delivers a strike to Edelman about two seconds after receiving the snap. Good luck stopping that.

Watch for Amendola, Martin, and LaFell too. Denver is likely to load up on Gronkowski and Edelman leaving the other three lightly defended. Tom Brady knows how to sting to the death a team that lightly defends.

Speaking of Brady, I don't get into the Brady-Manning comparisons. They are two great quarterbacks and they are fun to watch. Manning's multiple injuries these past few years have diminished his ability to totally control a game, but he remains a dangerous and cerebral opponent. They are pro football's DaVinci and Michelangelo. Geniuses with talent. The two best I've ever seen…………….

My one worry about this game is the health of the defense, specifically Chandler Jones, Jamie Collins, and Dont'a Hightower. They are exceptional football players and if they are physically limited Denver can compete. Oh yeah, the offensive line is a bit of a worry too. They played very well last week, giving Brady the two seconds he needs to destroy you, but I'm still holding my breath.

By the way, the Patriots will go on to win the Super Bowl this year. They are the best team in the NFL and they will beat the NFC champs on February 7th. They were lucky to win last year, owing their Super Bowl trophy to Pete Carroll's ridiculously reckless call at the goal line. This year the Patriots are the league's best and their victory will be earned rather than given.

MY NEW HIP: Twenty-four hours ago my God-given right hip went to the hip graveyard. It was a happy parting. America's orthopedic legend Dr. Dennis Burke performed yet another miracle, giving pain-free life and joy to another limping civilian. This guy is better than Brady, Manning, DaVinci, and Michelangelo combined. Orr, Russell, and Williams too. I'll be running sprints by April and I'll be kneeling in prayerful pain-free thanks for the gift of Dr. Burke.

He's a Boston Latin School guy (of course), a son of South Boston, an M.I.T. trained mechanical engineer who then went to medical school and combined his love of tools, mechanics, and medicine to help thousands of people enjoy full and productive lives. He is a blessing, a gift, a delight. And, he is the most humble and modest man on the planet. Every nurse, intern, and resident who has ever worked with "Dr. Dennis" absolutely loves him. I adore him too. I stay awake during the surgery and the Doc and I will gab away like two happy Irishmen in a pub. He's a treasure and a pleasure, one of life's great jewels in our midst.
GE COMES TO BOSTON:
The news is exciting. GE, a Fortune 10 company and a true global leader is moving its corporate headquarters to Boston. Congratulations to Mayor Marty Walsh and Governor Charley Baker for working together to seize the opportunity. A thoughtful Democrat and a thoughtful Republican put their heads together and came up with a big win for the city and the state. Well done by all. Kudos also go to their respective teams who recognized what their bosses recognized---that jobs are critical, that innovation drives the world, that economic reputation is crucial, and that everyone wins when the economy expands. Other companies will take a lead from GE and put Boston and Massachusetts on the short list of great places to grow. These two gents, Baker and Walsh, are a delight…………….short on ego, long on leadership, great in combination. My kind of Democrat, my kind of Republican, my kind of leaders.
These are happy and exciting days.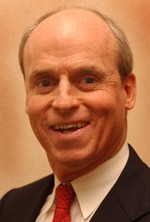 Tom Finneran is the former Speaker of the Massachusetts House of Representatives, served as the head the Massachusetts Biotechnology Council, and was a longstanding radio voice in Boston radio.
---
Related Slideshow: 5 Takeaways From The Patriots Win Over Kansas City
Related Articles
Enjoy this post? Share it with others.