Finneran: The President's Vacations
Friday, May 19, 2017
Leave them alone.
All of them. They either had or have the world's toughest job.
I call it much ado about something. That something is presidential vacations.
The loony Left is all lathered up about Donald Trump's golfing schedule. The loony Right was all aghast at Barack Obama's vacation schedule. The loony Left scolded George Bush for his Texas ranch getaways. The loony Right mocked Bill Clinton's Martha's Vineyard whirlwind photo-op holidays.
Why is it---beyond simple and blatant hypocrisy---that these political agitators go strangely silent when one of their preferred candidates holds the office of President, after screaming at ear-splitting levels about the other party's guy living it up at taxpayer expense?
The cynic in me suggests that the nation is much better off when these guys are out of the White House and hanging out with family and friends. They tend to do less harm when they're away from the office and Washington D.C. The citizen in me acknowledges that a ceaseless mental exhaustion comes attached to the office of President. Exhaustion in any endeavor leads to poor results. Exhaustion in a President can be outright dangerous.
At the moment, no one seems able to hold a rational conversation about President Trump. His critics scream for impeachment while his supporters point to the media's self-serving hysteria and obvious bias.
So let's talk about Presidents Obama and Bush. They each liked to get away from the office. They each sought physical outlets. Bush would either bike or run. Obama preferred golf. Kudos to each man. They found activities which let them unwind. The Republic did not fall.
Consider the reality of the office of the presidency. The work is all mental. A President does not dig ditches or shingle roofs. A President does not get to take off a tool belt at the end of a work day. A President does not get to look at forty acres of freshly plowed farmland with the satisfaction of a good day's work now finished. Those mental issues---budgets, taxes, foreign affairs, military challenges, the economy, Congressional relations, the media, and politics---such issues are never fully and finally resolved. Rather they evolve each day, requiring a nimble mind and a constant vigilance.
Let's concede the President six hours of sleep each night, noting however that on any given night he might be suddenly woken about any number of national emergencies. To paraphrase an old saying, "the sun never sets on America's interests". The six hours of sleep leaves eighteen hours of an emotional roller-coaster as discouraging news collides with encouraging facts. Some days may seem to be all good, other days may seem all bad. No need to fret for the eternal truism applies to the reality of that office---"this too shall pass".
These eighteen hour days follow one upon another like waves on a beach. There are no early get-away Fridays, no hang-around-the-house Saturdays, no lazy Sundays. A President's mind is a full barn of problems. I grudge them not any downtime they can find.
I offer the same suggestion to Mr. Trump that I offered to Barack Obama---play more golf, not less. Play poker. Watch games. Do more family things. Be normal.
President Trump would be well-served to invite members of Congress and the Senate to Mar-a-Lago or to the White House. Summer baseball games, fall football, March Madness, NBA and NHL playoffs offer countless opportunities to unwind. Poker games can break an awful lot of ice. Getting to know someone over a good steak and a stiff drink is smart politics. Eighteen holes of golf, followed by burgers and beer, is as good a use of a President's time as any canned speech he might make.
The job is not normal. The responsibilities are enormous. Take time away. Make time for family. Play more golf, not less.
Mr. President, be normal.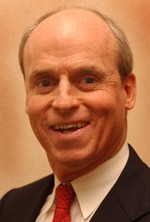 Tom Finneran is the former Speaker of the Massachusetts House of Representatives, served as the head the Massachusetts Biotechnology Council, and was a longstanding radio voice in Boston radio.
Related Articles
Enjoy this post? Share it with others.