Finneran: These Are Feminists?
Friday, February 12, 2016
It's hard to keep up with the lunacy of our times.
Gloria Steinem? I'm told she's a feminist icon. Madeleine Albright? Another feminist icon. Yet countless men and many women are confused by their bullying insults of young American women. Where's the go-to guide for avoiding the icons' wrath and condemnation?
Here's the back story as reported in the Globe:
Apparently our loveable Socialist candidate Bernie Sanders, the maple syrup revolutionary from the Green Mountains of Vermont, enjoys very strong support from younger voters. Pre- and post-caucus polls in Iowa show a huge gap between Sanders and Hillary Clinton when measuring the "millennial" vote.
The same gap appears in New Hampshire voter polls. Younger voters, male and female, have flocked to Sanders, feeling "the Bern" and leaving Hillary's supporters dismayed.
Enter Steinem and Albright. Scolds.
Apparently today's young women voters are not allowed to exercise independent judgement. Wow. Is this the new patriarchy? Matriarchy?
Ms. Albright invokes fire and damnation, the very gates of Hell, for those young women who might support Sanders over Clinton. She's comes across like a flame-breathing televangelist running a collection-plate shakedown.
Ms. Steinem might be worse. She attributes female millennial support to those damnable hormones, you know the ones that animate young men and women to seek each other's company. Ms. Steinem has the female Sanders supporters acting on some groupie impulse, chasing all the young men who have flocked to the Bern. That's quite a stereotype. Apparently it must be sex, emotions, moods, and feelings which are causing the young female exodus away from Hillary. It's not judgement. It's not independent thought. It's not a personal assessment of the two candidates. It simply couldn't be, not after the icons' have deigned to speak and prescribe that which is acceptable to the gods of gender.
Such shaming. Such bullying. Such intimidation…………from exquisitely liberal "role models"! It boggles the politically correct mind. Apparently pro-choice encompasses anti-choice if one's choice is the "wrong" choice. I don't know whether to laugh or cry.
As a privileged white patriarch, I'll laugh at the hypocrisy of our two lecturers. Having been happily and respectfully married to the same woman for forty years, and having raised two smart independent thoughtful daughters, I'll skip the Steinem/Albright indoctrination seminar.
I consider myself more of a feminist than the icons, for my motivations on behalf of my children, my daughters, are far more honorable than the icons' political demands made in pursuit of political power.
Those motivations are simple yet timeless. I expect fair treatment for my daughters. I expect fair opportunity for them. I expect fair respect for their judgements and opinions. I have tried to give them a foundation and now I step back and let them run their race in their own way. Many many millions of American fathers do the same. No lecture is needed, for love is the bond that nurtures little girls into young women and young women into strong leaders. And strong leaders, wise women and wise men, do not limit their respect for women to the blood-line of their daughters alone. Rather, their wisdom encompasses the truth that talent and ability reside in fair degree in very large numbers of both sexes.
I've often thought that America's greatest sins were also its greatest economic and "patriotic" mistakes. The moral issue of slavery needs no elaboration. It was and will forever remain a horrific abomination of humanity. Somewhat less haunting but nonetheless foolishly wrong, was the systematic exclusion of women from many aspects of society.
To exclude the God-given talents of black Americans from productive society was both immoral and economically insane. To exclude the God-given talents of half the population—i.e.—women—from productive society was similarly immoral and insane.
Thankfully, America has grown up. And I'll give credit to Ms. Steinem and Ms. Albright for having assisted the occurrence of that growth. But now it's time for them to let go…………..
Let the icons be reminded to let freedom ring---freedom of thought, freedom of judgement. The young women are quite capable you know.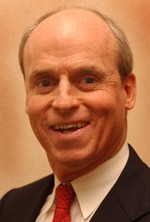 Tom Finneran is the former Speaker of the Massachusetts House of Representatives, served as the head the Massachusetts Biotechnology Council, and was a longstanding radio voice in Boston radio.
Related Articles
Enjoy this post? Share it with others.