Finneran: When Dixie Came to Town
Friday, April 01, 2016
Our family has grown.

Meet Dixie, a rescue dog from down South, thus her name. She has taken the North by storm, with her Southern charm and gracious manners.

Initially my concern was that a "rescue dog" would mean the arrival of a high-maintenance problem created by some cruel unknown person. Now, after several days with her new family my sense is that Dixie was neglected not abused and that her previous owners were simply overwhelmed by some of life's hardships. I don't think that she was fed regularly and by the way in which Dixie stalks squirrels they must have been a main source of her nutrition.

Dixie is a golden retriever, strong, alert, and ever so patient with her new "brothers and sisters"—i.e.—my grandchildren. They of course love her and are hilariously entertained by her. The two year old, being a typical two year old, hangs on her neck, scratches her ears, and generally mugs her with whatever is at hand. Dixie just wags her tail, serenely happy to be in a home where she is loved.

It's a curious thing you know, this almost instantaneous attachment which occurs between people and their pets. I've watched it twice now over the past three months, as my other daughter got a cat for her kids for Christmas. Now I am NOT a cat person in any way, shape, or form but "Zippy", the new cat has captured me. I like her and I look for her every morning. She's a beautiful charming athlete with a winning personality. I'm amazed at her speed. And her intelligence.

Consider this amazing fact--my wife and I have gone for more than thirty years without any pets. In fact we counseled these two families very strongly against the idea of ever getting any kind of pet. The expense, the inconvenience, the work, the limitations on travel, and a host of other concerns fueled our objections.

Now, in the space of about three days, we're in the tank, just as crazy as every other pet owner, bragging about their actions, and, most amazingly, talking to these creatures as if they are adults. All sense has gone out the door. We are captivated by them, getting great enjoyment from our grandkids enjoyment

Back to Dixie---dog duty, that is daily exercise and responding to nature's calls, is beyond the strength of my grandchildren for the moment. Dixie could and would drag them down the street in hot pursuit of squirrels, chipmunks, ducks, and geese. So my son-in-law, handsome, successful, and very busy, spends time he does not have walking Dixie and cleaning up dog poop.

Me too.

That's right, when my son-in-law is jammed up I'm the pinch hitter for walking with Dixie, often with five, six, or seven kids in tow. I know it's insane but so is love. And Dixie is loved.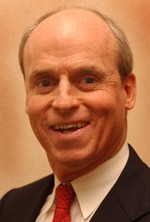 Tom Finneran is the former Speaker of the Massachusetts House of Representatives, served as the head the Massachusetts Biotechnology Council, and was a longstanding radio voice in Boston radio.
Related Articles
Enjoy this post? Share it with others.