Finneran: Women's Work
Friday, July 08, 2016
What a strange and dated phrase………"women's work".

It's as if anything that a woman historically did is somehow below the dignity of a man. The phrase also connotes the view that household work---vacuuming, laundry, food shopping, meal prep, dishes---is not really work.

I challenge the next burly weightlifter or triathlete to handle the above tasks while nursing an infant and chasing a two year old. The endurance required is of Olympian standard. The fatigue is frighteningly real and at day's end you can look forward to an endless stream of similar days, as the two year old turns three and the infant begins his own journey to the terrible twos. Add in the occasional ear infection or strep, a mid-winter bout with the flu, or some other illness from the parade of horribles which afflicts humanity and you'd begin to look forward to boxing ten rounds with Joe Frazier rather than one more day of so-called women's work.

Fortunately society seems to have caught on to the fact that men can cook, men can clean, and that men can figure out the washing machine. Even the on/off switch on a vacuum responds to a man's touch.

More importantly and long overdue is the flood of women into "men's work", an equally silly and dated phrase. The professions of law, medicine, and architecture, the life sciences, computer technology, and a host of other fields have been vastly improved by the flood of women entering the workforce. Historic male bastions such as police work, construction, firefighting, and the military have been similarly improved.

The once-upon-a-time strict relegation of women to the three "careers" of housewife, nurse, or teacher was not healthy for them nor wise for society. Any society depends upon talent and equivalent talent is to be found in both X and Y chromosome individuals. Why would any society want to run on one leg, putting limits on half of its potential talent? By the way, it's the same argument regarding minorities……….why put artificial limits on any human being, let alone an ethnic or demographic group which represents ten or fifteen percent of the population?

Now I'm enough of a traditionalist (and I hope a gentleman) to harbor some doubts about women in combat. The Kasserine Pass, Anzio, Normandy, Guadalcanal, Iwo Jima, Chosin, Khe Sanh, and a host of other battlefields tell a brutal story of vicious fighting. Bayonets and hand-to-hand combat unto death tests the mettle of hard strong men. And it is not mere chivalry which would distract such men at the sight of women colleagues being slaughtered. There is a natural human impulse to shelter and protect women and children from harm. And fighting men do not need distraction. You can put me down as unconvinced regarding women in combat……………………….

More amusing today is the notion that the nation is not ready for a woman President. The nation has been ready for such a milestone for many years. It's exactly the same situation as Barack Obama in 2008---the nation was prepared to vote for a black President for a good number of years, much to the shock of most black Americans. Americans are not bigots. They were just not going to vote for Jesse Jackson or Al Sharpton, each of whom were lousy candidates and whom actually campaigned for cold crass business purposes.

Now Americans might not vote for Hillary Clinton. She has her strengths and she has her limitations. Her gender however is not one of her limitations. History throws that idea right out the window. Think Meir of Israel. Think Merkel of Germany. Think Thatcher of Great Britain.

And let's all stop thinking of mere "women's work". The work of the world awaits.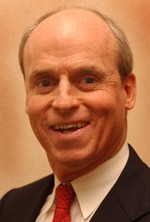 Tom Finneran is the former Speaker of the Massachusetts House of Representatives, served as the head the Massachusetts Biotechnology Council, and was a longstanding radio voice in Boston radio.
Related Articles
Enjoy this post? Share it with others.