Paul Giorgio: Mitt Romney & Scott Brown Have Crossed the Border
Wednesday, July 09, 2014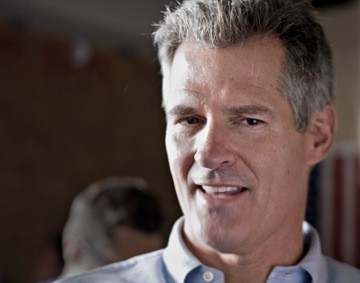 There they were standing together last week, two refugees from Massachusetts politics. Others have called them carpetbaggers and some have even called them losers. You had former Massachusetts resident, Governor and 2-time Republican presidential candidate Mitt Romney endorsing his ideological soul mate- former Massachusetts resident and former Massachusetts Senator and loser to Elizabeth Warren, Scott Brown- standing next to each other as Romney endorsed Brown for the Senate in New Hampshire.
The event took place at Bittersweet Farm in the town of Stratham. This is where Romney announced for president in 2012. So, I guess it was indeed bittersweet for him. Both Romney and Brown wore button down oxford shirts and in Brown's case a blue blazer. Hardly proper attire to be on a farm, especially in Brown's case. Brown, as you may remember, campaigned across the Commonwealth wearing a barn jacket. Two rich guys, including one who is super rich have no idea what farm life is like. Wearing a barn Jacket doesn't make you a farmer.
Atmospherics matter
Atmospherics and visuals are important in a campaign stop. I am reminded of the old adage, "One picture is worth a thousand words." In this case the atmospherics were wrong for Brown.
The photo op and endorsement reinforced both the carpetbagger image and the out of touch image that Brown has been trying to shake, since he pulled up stakes in Massachusetts and drove across the border to the Granite State eight months ago.
Brown is trying to rebrand himself as a conservative, but he has a primary fight with a true New Hampshire conservative, former Senator Bob Smith.
Now the conservatives in New Hampshire are not of the Romney and Koch brother kind of conservatives. They are more of the traditional New Hampshire skin flint conservative. They really don't like the super-rich, no matter what their values are.
So how did this event help Brown and move his campaign along? I don't believe it did. First of all there is a rule of thumb that you don't do political events the week of the 4th of July. People have checked out that week and aren't paying attention to the news.
Secondly, the picture was wrong. Brown may have done better if he was surrounded by local farmers in addition to Romney. Maybe he should have shed the blue sport coat in favor of more farm like clothing.
Thirdly, I would not have done the event at a place that Romney used to launch his losing campaign for president. In fact, many reporters at the event focused on Romney and whether he was running for a third time.
Brown lagging behind
In the last few months, Brown has consistently lagged behind Democratic incumnbent Jean Shaheen in public opinion polls. One recent poll had Shaheen up by as much as 12 percent. On top of that, The Senior Senator from New Hampshire is also out fundraising Brown.
In order to win in November, Brown must change the dynamic of the race. Shaheen is a popular 3 term Governor who has deep roots in the Granite State. Brown has tried to paint her as an Obama want-to-be, but so far that has not worked.
Scott Brown needs to convince voters why they should vote for him. So far he has not done that. He has been too busy telling them why they should not vote for Jean Shaheen. It appears that even that strategy is back firing on Brown.
The question New Hampshire voters will have to answer is: Are they willing to boot out one of their own for someone who just crossed the border from Massachusetts?
Maybe Shaheen should start calling him an illegal and get him booted out of the state and force him back across the border.
Paul Giorgio is a longtime Democratic Party Activist who has worked on numerous campaigns. He was a Lead Advance Person for President Clinton & Vice President Gore. He was Deputy Director of Special Events for President Clinton's first Inauguration. He has been elected a delegate to numerous Democratic National Conventions and recently served as one of President Obama's representatives on the Platform Committee. In 2013 he was chosen as a Presidential Elector. He is the President of Pagio, Inc., publishers of Pulse Magazine, Vitality Magazine and Worcester Medicine.
Related Articles
Enjoy this post? Share it with others.