Tom Finneran: We Are the 99%
Friday, May 30, 2014
You remember the scenes from many American cities. Hordes of people, many of them needing lessons in hygiene, all of them protesting something about America, and none of them appreciating the freedoms won and held secure for us, the 99%, by them, the indispensable 1%. We are the 99% and we are in deep deep debt to the 1%.
Here I speak of the few, the very few, who serve the rest of us in uniform and in arms. Army, Navy, Air Force, Marines, Coast Guard, and reservist personnel are the miracle 1%. And while the rest of us whine and moan about the hardships of our pampered cushioned lives, this 1% laces up the boots and goes out to work. In hellholes. If not in Iraq, then in Afghanistan. Perhaps soon in Nigeria. These are not Club Med destinations. There's no turndown service at night with chocolates left on the pillow. Their sweet dreams are those that have no bullets bouncing off the walls.
I often wonder whether America made a big mistake in moving to an all-volunteer armed forces. I know that the generals and the admirals have adjusted to the new reality of volunteers but generals and admirals are political animals who can read the political tea leaves and who leave no political waves. Theirs is not to reason why……………..at least publicly.
As a civilian I wonder if we have not lost the most crucial common denominator of previous generations of Americans, leaving us strangely isolated and asunder from our fellow citizens. Surely it was educational for young men from different sections of the country, from different races and religions and backgrounds to undergo the shared rigors of basic training and military drill. Pushups, pullups, situps, two mile runs, five mile runs, and twenty mile forced marches in full gear can create a camaraderie between black and white, Jew and Muslim, farm boy and city kid that would never otherwise occur. Military service was the quintessential shared American bond, uniting disparate folks in initial anxiety and in final achievement. Call it the brotherhood of the barracks.
In addition to the leavening of a shared experience, consider our freedoms. How are they purchased? How are they maintained? By whom? What is our debt? Is our payment of taxes the sole requirement or responsibility of citizenship? Should there not be something else, something that puts more on the line than the transfer of money from citizen to government? Should there not be an expectation of some form of national service?
Consider Israel. Given Israel's existential threats, it's not surprising that their national service model encompasses both men and women. Indeed, it is one of life's great sights to travel in Israel and watch young women walking the streets or hopping on a bus while carrying their machine guns, always fully alert and prepared to respond to an emergency call at any hour of the day or night. On entering a nightclub those young Israeli women will check their weapons at the door in the same way that we check our winter coats.
Another abundantly sensible thing the Israelis do is this---one's service begins after high school and before college, giving their young citizens a crucial two or three extra years of maturation, responsibility, and experience. Entering college at 21 or 22 years of age, after having trained and served in a military unit, is profoundly different and infinitely wiser than the American disaster of sending 18 year olds off to four years of non-stop happy hours at their favorite university.
Now I know that Israel is not America and America is not Israel. Nonetheless, are we blind to the drift of America? Is it beyond the pale to suggest a service requirement as a part of American citizenship? Are our homes and our communities simply geographic pinpoints, mere intersecting lines of longitude and latitude? Isn't a nation, particularly a great nation, supposed to be something more than that?
Whether "national service" takes the form of traditional military service or some domestic variation, would it not be a healthy psychological investment that young people make in their nation? And, contrary to conventional wisdom, I do not think that a greatly broadened military commitment would lead to a casual and frequent use of our military might. To the contrary, when more families have skin in the game---the skin and lives of their sons and daughters---those families will not be casual bystanders and observers of the nation's military adventures.
Final point---President Bush, "W", really flubbed a tremendous nation-building opportunity in the aftermath of the Sept. 11th attack on America. As we identified Al-Qaeda and the Taliban, as we marshalled our troops and resources, as we cobbled together a worthy alliance, and as America began to consciously come to grips with the rage and hatred of fanatics, President Bush was asked what ordinary Americans could or should do in this new tense era of terror. His response seemed intended to calm and reassure a suddenly angry and nervous nation. Yet that response was beyond banal. What were his words to an aroused nation, to the 99% who are not in uniform? His words were "go shopping……". Not very Churchillian, not very Truman-like, it was a mightily missed opportunity to a nation that yearned for focus and inspiration.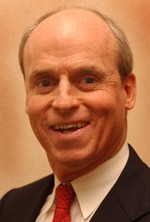 I expect more from our Presidents. And I expect more from the 99%.
Tom Finneran is the former Speaker of the Massachusetts House of Representatives, served as the head the Massachusetts Biotechnology Council, and was a longstanding radio voice in Boston radio.
---
Related Slideshow: 14 To Watch in Central Mass in 2014
Related Articles
Enjoy this post? Share it with others.