Warren Stays Silent on Corporate Responsibility
Tuesday, June 26, 2012
Senate hopeful,
Elizabeth Warren (D)
, who has built her campaign around contesting Wall Street businesses has remained silent on the
burden placed on taxpayers by the New York Times Company
. This silence has caused local outrage as some accusing Professor Warren of hypocritical behavior.
Warren, who recently hammered her opponent, Senator Scott Brown for his record on environmental issues offered "no comment," when asked if she thought that it was acceptable for a national corporation to leave Worcester footing the bill for an environmentally damaged building. Last week GoLocalWorcester had reported that the former Telegram & Gazette building, sold by the New York Times Company to a non-profit, was left polluted despite claims by the Telegram & Gazette's publisher that the building was not a Brownfields site. The non-profit has received government funding under the Brownfields grant program to begin the clean up.
Union Involvement
Martin Callaghan, of Boston Newspaper Printing Pressmen's Union Local No. 3 said that they will be looking into the issue and have already made a phone call.
"I think we're going to have to make an inquiry to the company," he said. "To the extent that there's any possible contamination, it could be a risk to employees."
Callaghan said that the Providence Newspaper Guild was mostly affiliated with those at the former Telegram and Gazette building. The president of the Providence Newspaper Guild was not able to be reached for comment.
Hypocritical
Warren has issued many statements concerning the need for more accountability and consumer protection from the conglomerates of Wall Street.
"The House Republicans are engaged in a backdoor attempt to weaken consumer protection and water down oversight," said Warren in a statement she released. "If Congress really cares about middle class families—and the health of our entire economy—it must ensure there is real accountability for Wall Street."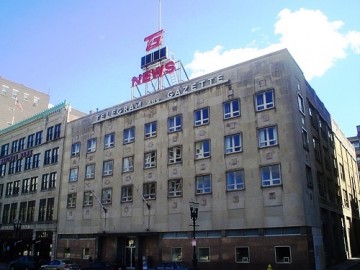 Christopher Pinto
, treasurer of the
Worcester Republican City Committee
, had words of criticism for Warren.
"The whole drumbeat coming out of DC is that Republicans want a dirty environment. Here's her opportunity to make big evil corporations pay for what they've done, and she's not doing it," he said.
Pinto was quick to call Warren out on other accusations involving her less than straightforward actions.
"Liz Warren isn't who she wants us to think she is. This one doesn't surprise me because she says she battles against the middle class citizen being abused by the banks, but she herself was buying mortgages on foreclosed houses then flipping the house for a profit which makes her a hypocrite," he said.
Warren has also called for corporations to "stop fighting for loopholes," but has nothing to say to the New York Times Corporation.
He added that fiscally, Warren and those involved with the issue – Lieutenant Governor Tim Murray and Congressman Jim McGovern – need to be more mindful.
"It's very easy to spend other people's money and they don't treat this money like it was their own. Warren isn't who she says she is," Pinto said.
"It doesn't surprise me that she's not going to react to an actual issue. Talk is cheap," said Activate Worcester supporter, Bonnie Johnson. "It's one thing to talk, it's another thing to act. For her to talk about environmental issues and not be willing to act on them, it should say lots to everybody. She should support what she says and do something about it. This job means that you have to do that and clearly she might have a hard time taking action that would equal the promises."
Close Ties
Worcester City Councilor-at-Large, Konstantina Lukes, also had negative remarks for the Senate hopeful, whose party has close ties with the left-leaning company.
"It wouldn't surprise me that any candidate looking for good press in the Times or Globe won't go after those papers," Lukes said. "And I'm sure she would appreciate support from them."
Pinto said that the entire partisan involvement with the New York Times' mess at the former Telegram building has been "ridiculous."
"It's not surprising that she wouldn't go after the New York Times. The Telegram is cozy with her friend, Jim McGovern. It's also not surprising they got the money," he said. "They claimed there were no brownfields there, then held a conference with Murray and McGovern – 'We're Superman to give you money for brownfields.' All three are ridiculous, using our money to clean up what the New York Times left behind."
The Burden of the Taxpayers
Councilor Lukes discussed the ongoing burden that taxpayers face in many situations. This one, she said, is just another unfortunate example.
"It's a mixed bag. The taxpayers pick up the tab on a lot of projects," she said. "It depends on how valuable the project is to the wellbeing of the area." She cited the recent REO that she believes will increase building costs by 20% in the city as well as the cost of tearing down the Galleria downtown for the City Square project.
"Is it black and white? Not really. Lots of services paid for by taxpayers," she said.
Paul Giorgio, publisher of The Pulse Magazine said that the New York Times Company's behavior on this issue has been unacceptable.
"If any homeowner has asbestos in their basement, they're expected to pay for it," he said. "The New York Times shouldn't expect the taxpayer to pick up the tab."
Related Articles
Enjoy this post? Share it with others.