Urban Gardener: Seeds in the Snowbed
Saturday, February 08, 2014
Treasure those all too transitory snowbanks. Urban gardeners tweak each of their capricious plots for every solar advantage and long ago came to peace with the vagaries and turmoil of snow. Embrace the snow seasons. This is a snowy winter unlike February 2012 when there was no snow on the ground until nearly March and gave us a very dry spring. Snow is especially good in the garden. A properly treated planting bed is the most proper location for plenty of snow. Not the dump truckloads of snow into the Providence River type of snow removal of course. Rather, there is another, more peaceful way, and it starts with a deep breath and good clothes. Then pick up your shovel and plot your plan. I am judicious as I shovel and soon fall into graceful idiom. The snow from walk ways and drives is constrained in cities and often far out of our hands. If you are close to your garden there are dos and don'ts. Economy of motion and good form at all times brings joy to physical labor. Let's start with that.
Do allow snow to accumulate without too much fuss. I keep my sidewalk clear from granite curbstone across to garden wall, the standard city four feet. Anything shoved from here may with care go into a narrow front raised bed. Lots of urban space is curb to hedge or wall and fence. I have all three and each calls for a tweak in technique. The snow is to enhance the plants beneath and is a benign form of water for our gardens. The front sidewalk is a very sunny stretch and snow melts here first. I pile with impunity over echinecea, daffodils, crocus, grape hyacinth, brown eyed Susan, and thyme. I do not however, pile snow over roses, hydrangeas or figs. The roses are especially unforgiving of deep snow.
I have the luxury of living with bamboo. Nothing surpasses my communion with the resilient bamboo. Cold has burned the green foliage and wind stripped some leaves. Enough remain however for our snow to gather upon distant leaves and soon the entire stalk bends in a long arc tending towards the soil. Given the least encouragement from wind the bamboo stalks would shoulder most snows and ice. However still or very slow moving snowfalls of large moist flakes bring down long graceful stems.
I moved along the bamboo outpost and gently, shook each stem, careful not to pull the leaves off the branches and soon a cascade of snow- flakes powder my winter coat. Not to be discouraged, I continued onward, always lifting firmly and gently from beneath the bamboo stems. A constant shake along their stalks and soon they were far above my head amid silence and utter quiet. Snow eats of up sound and has its own signature. The bamboo absorbs light and cast deep shadows. The ground underneath them is always the coldest part of the garden and the last to lose its frost. My feet are firmly on the ground. Gravity holds the moment. Cold silent darkness is perfect for a deep breath and a survey of the winter garden.
Gardeners are thoughtful people. We are visionaries, ever alert to new vistas, intrigued by the constant process of growth and its nuance. Winter stars above us and the half-moon are more brilliant in the snow. The frozen mulch protects the many bulbs, seeds, tubers and roots. The apparent empty space above begs for our attention. Our nature is to fill a vacuum. Inside the garden shed I have tacked a few labels and pictures of plants in the ground. I often fall victim to vivid advertising and may hold out for a short while. Within the house I've started my courtship with seed catalogs. Yet there is some gardening in the house with every intention for spring.
I have an ancient cane begonia long resident in my family. This sturdy plant thrives through depressions, wars, countless children and dogs. It blooms freely twice a year in magnificent umbrells of pink blooms. I make stem cuttings on the new growth. The cuttings are about the size of pencils, I moisten and roll in rooting powder and pot up on a bright window sill. The few houseplants I keep are gigantic and it's a good feeling to have a new generation in the window. Latter in the season I'll take these cuttings and transplant into large pots for magnificent specimen plants. I encourage everyone to start new plants from cuttings while there is snow on the ground.
This is a fine time to cut a few branches of forsythia and put in water. Keep in sunshine and always wet. Do this simple gardening with children. Teach them the careful and proper use of pruning tools with the appropriate gloves, eye protection and care. It is never too early to demonstrate careful and considered motion in the garden. A calm and gentle breath will bring us in harmony with the plants and one another. This is very useful around thorny roses or angry bees.
Gardeners are thoughtful people and visionaries. Today we think of now and then. There is such wonderful play at our fingertips and a joy every day. Let it snow. Tomorrow it will melt and melting, our gardens are revealed. I think it will be glorious.
Leonard Moorehead is a life-long gardener. He practices organic-bio/dynamic gardening techniques in a side lot surrounded by city neighborhoods in Providence RI. His adventures in composting, wood chips, manure, seaweed, hay and enormous amounts of leaves are minor distractions to the joy of cultivating the soil with flowers, herbs, vegetables, berries, and dwarf fruit trees.
---
Related Slideshow: 10 Valentine's Day Gifts for Her
Prev
Next
A Charming Gift
Show your special someone that you cherish them this Valentine's Day by giving them a unique gift from Alex and Ani. The popular Rhode Island retailer has outdone themselves this Valentine's Day season offering a variety of gifts -- including bangles, wraps, and earrings. You can even personalize your piece with a cupid or heart charm.
Price: $28 and up
Buy it from: The Paper Store, Millbury, Hudson, Leominster, Shrewsbury
Prev
Next
Specialty Chocolates
It's been said that they fastest way to a woman's heart is through her stomach and who are we to argue. This Valentine's Day, pick up some tasty handcrafted chocolates from Hebert Candies. Hebert offers over 50 different Valentine's Day candy packages sure to please even the most discerning palate.
Price: $6.95 and up
Buy it from: Hebert Candies, Shrewsbury
Prev
Next
A Day at the Spa
Treat that special someone in your life with a day at the spa this Valentine's Day at Bellisimo European Day Spa. Bellisimo offers a wide variety of services including skin rejuvenation, massage therapy, skin care treatments, spa body treatments and spa experiences.
Price: Prices vary by service. Visit their website or call 508-799-7767 for more information.
Buy it from: Bellisimo European Day Spa, Worcester
Prev
Next
A One of a Kind Item
Is your partner a bit eclectic? If so, Funky Stuff is sure to have the perfect gift. This unique store sells an array of gifts including fine art, clothing, handmade jewelry, gems and minerals, and locally made holistic products. Click here to see what Funky Stuff has to offer.
Price: $2.50 and up
Buy it from: Funky Stuff, Worcester
Image: Huge heart shaped Amethyst for sale at Funky Stuff
Prev
Next
A Beautiful Bouquet
Nothing says "I love you" on Valentine's Day like a wonderful bouquet of flowers. Express your love Valentine's Day beautiful and affordable flowers from Perro's. From romantic roses to impressive modern bouquets, Perro's offers over 30 different Valentine's Day special that are sure to please even the most discerning eye.
Price: $42.50 and up
Buy it from: Perro's Flowers, Worcester
Prev
Next
A Romantic Evening
Did you know that many components in Japanese cuisine have long been known to be natural aphrodisiacs? Ingredients such as rice, wasabi, ginger, unagi, sake, even shitake mushrooms can fuel romance. So if you're looking to start your evening with some natural and edible sparks, join 7 Nana on Valentine's Day, February 14th, and either choose from their regular dinner menu, or make your reservation for one of their special prix fixe menu seatings and enjoy a special Valentine's Day menu.
Price: $79 per couple
Buy it from: 7 Nana Japanese Steakhouse, Worcester
Prev
Next
Warm Woolies
Gifted socks don't have to be a boring practical gift when you choose a few pairs from the French Twist Boutique. Make a bigger impact with three or four pairs of P.J. Salvage socks partnered with another winter accessory life a scarf or a hat.
Price: $17 per pair
Buy it from: French Twist Boutique, Worcester
Prev
Next
Luxurious Body Care
Thymes Olive Leaf bath products make a stunning impression. Besides the packaging being festive and pretty, the olive leaf extract and shea butter draw a tapestry of scent on her skin. Put together a combination of bath powder, lotion, and soap and then give her an hour to herself, no questions asked. Your Valentine will find one hundred ways to thank you
Price: $14-$30
Buy it from: Bhadon Gift Gallery, Worcester
Prev
Next
A Music Lover's Dream
Does your Valentine have an affinity for classical music? How about taking her to the Blithewold Mansion on Valentine's Day for a concert she'll never forget. The Seven Hills Symphony's Winter (Valentine's Day) Concert, which will take place Feb. 14 from 7:30pm to 9pm, features an all-Romantic program. The concert will include the first movement of Dvorak's Cello Concerto and the first movement of Bruch's Violin Concerto No. 1. Click here for more information.
Price: This is a free event, but donations are encouraged.
Where: University of Massachusetts Memorial Medical Center, Worcester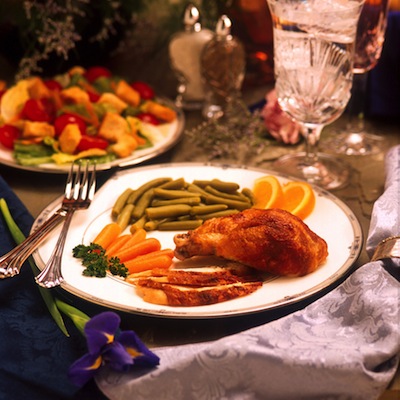 Prev
Next
Romantic Dinner at Home
Who doesn't love a home-cooked meal, especially when someone truly special prepares it? Pick out a cookbook with a lot of personal and memorable recipes that were his favorite dinners growing up, or the meal that she had on your first date. Then, as a bonus, offer your companion the opportunity to pick out a three-course meal of their choosing from the cookbook, prepare it, and have a nice dinner in for your Valentine's Day.
Price: Call 508-796-5613 or click here.
Buy it from: Annie's Book Stop, Worcester
Related Articles
Enjoy this post? Share it with others.