Returning Coach Brings New Philosophy to South High Football
Friday, August 24, 2012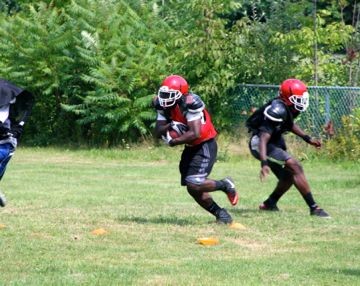 Dwindling numbers have crippled the South High football team in recent years, but the return of coach Jerry Snay has brought an abundance of optimism.
Snay had a successful run with the Colonels from 2002-2008, highlighted by a Central Mass Division IIIA Super Bowl victory in 2006. Snay returns to a program that is coming off a 1-10 campaign and was struggling just to get students to come out for the team.
Increasing student participation was priority number one, according to Snay.
"Numbers have always presented a challenge here," Snay said. "Right now we have 36 guys, and I expect to get a few more in the next few days, and I expect us to make a big push as school starts up. We've been relying on word of mouth so far, and I've been on the guys about telling their friends and their friends of friends."
And the players have followed his lead. Snay says each of his players has worked hard to get the word out about the team, and has done a bit of "recruiting" for the Colonels.
"It doesn't matter about wins and losses right now," junior Dillon Kempskie said. "As long as we can get guys to come out here and we give our hardest every day, we'll feel good."
After increasing his numbers, Snay turned his attention to reconstructing the offense. Rather than installing a singular scheme and trying to fit his players into it, Snay opted to use a diverse playbook, with different play that accentuate the strengths of each of his players.
"We are going to be, and when I say 'multiple,' I mean you're going to see a little bit of everything," Snay said. "What we're doing is putting together a system that's going to focus on their athleticism, not one system and try to make them fit."
While the Colonels may not have much size, they do have a great deal of speed. Snay thinks his players can out-flank the competition and get to the outside, and cornerback/wide receiver Joshua Gonzalez agrees.
"Our strength would be that we have a lot of good athletes," Gonzalez said. "A lot of guys that are really athletic."
Snay also said that he has yet to name any starters, in some cases telling players that have started for three consecutive years that they will have to earn their jobs. It's all a part of changing the culture, according to Snay, and senior running back Frank Ansah says that all the changes are welcome.
"Everything's new," Ansah said. "Everything's new, so it's a fresh start."
Related Articles
Enjoy this post? Share it with others.