video:

Revs Fall 2-1 to New York FC in Final Minute

Monday, August 21, 2017
Watch all of our goals vs. @NERevs so far - featuring @Guaje7Villa​'s first and a Frank Lampard​ knee special (cc: Etihad Airways​) #NYCFC pic.twitter.com/CcEkLgucgM

— New York City FC (@NYCFC) August 19, 2017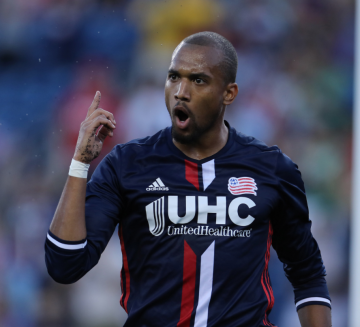 The
New England Revolution
gave up a stoppage time goal in the 90th minute and fell 2-1 to New York City FC on Sunday night Yankee Stadium. The Revs are now winless in their last 14 road games, a franchise record.
The loss drops the Revolution to 8-11-5 on the season.
They sit in second to last place in the Eastern Conference.
Revs Lose in Final Minutes
With the game tied at one in stoppage time, New York's David Villa stopped a cross from RJ Allen on the left side before dropping it to Ben Sweat, who one-timed a left footer to Jonathan Lewis at the top of the 6-yard box for the go-ahead goal in the fourth minute of stoppage time.
The Revolution grabbed a 1-0 lead earlier in the half when Teal Bunbury cashed in on a rebound from a shot by Andrew Farrell.
The goal was Bunbury's fifth in his last five games.
Villa would tie the game for New York in the 77th minute.
Next up
The Revolution return to action Saturday, August 26 when they visit D.C. United at RFK Stadium.
Game time is set for 7 p.m.
Dielna on late goals against: "I don't like to speak about this when I lose. I'm a winner, so I don't like to speak about it." #NERevs

— Jeff Lemieux (@jeff_lemieux) August 21, 2017
Related Articles
Enjoy this post? Share it with others.