South and Doherty Set to Play in GoLocal Game of the Week
Saturday, October 13, 2012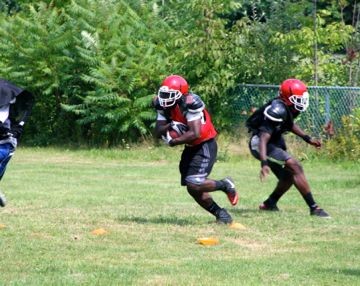 Inner-City bragging rights will be on the line when South meets Doherty at Foley Stadium in the GoLocal High School Football Game of the Week.
Doherty at South, 7 pm Saturday at Foley Stadium

Why is it a must-see game?

This game is the Inter-High opener for both teams, with the winner seizing the inside track to a league championship. Doherty came into the season as favorites to repeat as Inter-High champions, but a fast start from South caused many people to think it wouldn't be quite as easy for the Highlanders this year.

But, the Colonels have come back to Earth the past two weeks with humbling losses to Quabbin and Oakmont following the loss of multi-positional star Eustas Anderson. If the Colonels want to get their season back on track and prove they are for real, it has to start here.

South Offense vs Doherty Defense

Without Anderson in the lineup, South will have to lean heavily on star running back Frank Ansah. The Colonels like to use multiple formations and different looks to get the ball to Ansah in space, and quarterback Darwin Agyei is also a threat to run if he sees some daylight.

The Highlander defense is coming off off an impressive performance against one of the region's best offenses. Last week against Holy Name, Doherty held the Naps' star runner Quron Wright to "only" 105 yards and a pair of touchdowns. It was the best performance against Wright all year, who currently leads Central Mass in rushing. Big linebacker Noah Robinson and the Highlanders front seven do a great job of taking away the run from opposing offenses.

Doherty Offense vs South Defense

Doherty has gotten stellar play from quarterback Luke Brennan of late, and the talented junior tossed four touchdowns in the big win over Holy Name last week. Brennan has a ton of help with talented skill position players all around him. Robinson also stars on the offense as a brutal blocking and pass-catching tight end, while running back Abdulla Webster has the speed to take it the distance any time he touches it.

South's defense was just run over last week against Oakmont, giving up 240 yards on the ground. It was very uncharacteristic of the Colonels this year, as big Dillon Agyei had been virtually living in opposing backfields all year long from his defensive tackle position. We will see of the Colonels get a return to form from their powerful front, and allow their playmaking secondary, led by DeWante Vassor and Josh Gonzales, to make plays.


Be sure to check back after the game for full highlights in the sports section.
Related Articles
Enjoy this post? Share it with others.