South to face Quabbin in Battle of Rising Football Programs
Friday, September 28, 2012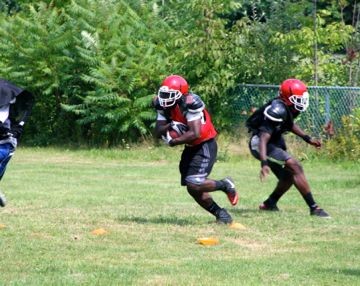 While South and Quabbin both come into their matchup tonight looking to bounce back from defeats, there is no question both programs are moving in the right direction.
Quabbin at South: Kickoff at 8 pm Friday at Foley Stadium
Why is it a must-see game?
South (2-1) has already doubled its win total from a year ago and, while they may not have a ton of depth, the Colonels do have speed to burn on both sides of the ball. Expect an exciting game as South attempts to slow down Central MA's leader in passing, Quabbin's Dylan Kierman and the explosive Panther offense.
South Offense vs Quabbin Defense
South likes to get the ball into the hands of star running back Frank Ansah, but quarterback Darwin Agyei is lethal with both his arm and his legs. The Colonels use multiple formations and a bunch of misdirection, but middle linebacker Tyler Hosely is a tackling machine for Quabbin (2-1). The instinctive linebacker has also proven himself as a pass rusher, picking up a pair of sacks already.
Quabbin Offense vs South Defense
When Quabbin has the ball, expect them to air it out. Kierman leads the region in passing yards and touchdowns, and receiver Nick Thyden is also Central Mass' leader in receptions. But, this is a balanced offense, as fellow receiver Justin Coppolino is a top-5 receiver in the region as well. It will be a tall task, but South defensive tackle Dillon Agyei will have to add to the five sacks he already has this year, and corner Josh Gonzalez will have to come up big to slow down the Panthers' passing game.
Be sure to check back after the game for full highlights in the sports section.
Related Articles
Enjoy this post? Share it with others.