Worcester Bragging Rights on the Line for North and South
Wednesday, November 21, 2012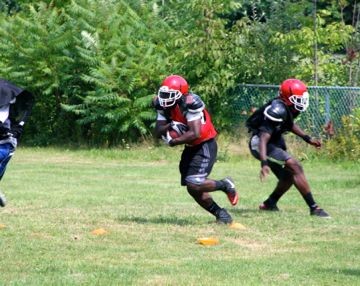 The Polar Bears of North High have endured a disappointing year, but know that a win over rival South will take a little bit of the sting out of this frustrating season.
"They are our rivals, and our guys go to camp with them and have a lot of respect for them," North coach Dan Boyle said. "The kids all know each other, and I know winning this game would mean a whole lot to our guys, just to finish the year on a high note."
North comes into the game at 2-8 while South comes in at 4-6. Neither team is a power yet, but South has shown remarkable improvement from a year ago. In 2011, the South won only a single game, and fell to North 24-21 in the season finale.
Since then, coach Jerry Snay has returned to the program after a multi-year absence, and instituted and entirely new offense and defense. The new approach paid off immediately as the Colonials jumped out to a 2-0 start, but several key injuries have brought them back down to Earth.
"I don't think ever in my coaching career, or playing career, which spans a lot of years, that I've experienced or seen this (many injuries) in one season," Snay said. "Week after week it's catastrophic season ending injury… At one point we looked around and we had no linebackers and we had no running backs."
When South has the ball, look for quarterback Darwin Agyei to make plays with both his feet and arm, while running back Frank Ansah has come back from an ankle injury to carry the load again. North will look for the physical Tyler Rainwater to hold his ground in the trenches against South's running attack.
When the Polar Bears have the ball, Doyle says to expect a heavy dose of running back Sam Castro. The talented halfback has emerged as North's featured runner, and he will have to elude one of the region's best defensive linemen in Dillon Agyei.
North and South will battle at Foley Stadium Wednesday at 6 pm.
Related Articles
Enjoy this post? Share it with others.