Count Us In: Boy Scout and WWII Vet Team to Build Memorial
Wednesday, December 12, 2012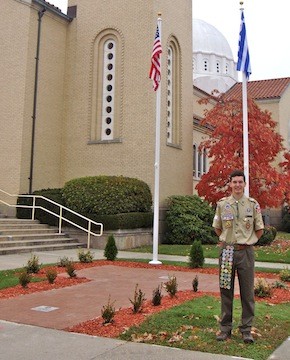 GoLocalWorcester presents a special series brought to you by Harvard Pilgrim Healthcare. This series will highlight some of the most unique partnerships in Central Mass and reinforce the message of Harvard Pilgrim's "Count Us In" campaign: "Amazing things happen when people work together."
The Veterans Recognition Committee at
St. Spyridon Cathedral
had been hoping to build a veterans memorial on Church grounds for over 30 years, but it never came to fruition until a 17-year-old Boy Scout teamed up with a 90-year-old World War II veteran.
Eagle Scout candidate Christian Alexandrou is a member of Boy Scout Troop 114 in Shrewsbury and attends
Worcester Academy
. Christian was inspired and motivated by several older scouts in his troop who had done service projects to honor veterans. When it was his turn to do an Eagle Scout service project, he decided to construct a memorial at the church he had attended his whole life, St. Spyridon Cathedral.
An Unusual Partnership

To make his vision a reality, Christian reached out to the chairman of the church's Veterans Recognition Committee.


"I approached Mr. Peter Leasca, and he was beyond excited," Christian said. "Being a World War II veteran himself, he was eager to build a memorial, and the committee had been working to build one for over 30-years. It turned out to be the right place and right time for it."
Leasca would serve as Christian's liaison to the church and assisted him with anything he could. Leasca remembers Christian first approaching him as a somewhat nervous, but very motivated young man.
"He showed his plans to me last January, and you could tell he was a little anxious," Leasca said. "I was thrilled because we never dreamed we would have such a beautiful memorial, with those bricks on the ground, and the American and Greek flag to represent our Greek Orthodox faith. He showed great work ethic and organization, and I think it's obvious he's going to go far."
Making it a Reality
Over the next several months, Christian designed and raised funds for the memorial. Leasca says he handled things with the committee and the church, but didn't want to interfere too much with Christian's plans.
"I didn't want to bother him," Leasca said with a chuckle. "Because I didn't want to steal any of the credit away from him. He was working so hard."
Christian says that Leasca did a bit more than that, however. The 90-year-old veteran kept in touch with him throughout his project, offering help where he could, and proved to be a regular tech whiz.
"It was amazing, you would never think a World War II veteran would be so tech-savvy," Christian said. "We kept in touch through emails, and I kept him posted."
The Next Step

The memorial, which was unveiled on Veterans Day at a ceremony attended by Congressman Jim McGovern, serves as an everyday reminder of the sacrifices made, not only by veterans of St. Spyridon, but by all that have served in America's armed forces.
"I was inspired to see a young man partner with one of our veterans to take on a project to memorialize the contributions of those that sacrificed so much for our country," Congressman McGovern said. "The memorial Mr. Alexandrou and Mr. Leasca built will stand as a fitting tribute to those who have served with honor and bravery."
For his part, Leasca has been impressed with Christian's work ethic so far, and he doesn't think their partnership will end any time soon.

That's because Leasca has been collecting the names of the church's veterans for the last 20 years, and now he believes he can finally honor them properly.

"Now Christian and I have to get to work putting the names of all the veterans on the bricks (by the memorial)," Leasca said. "We have about 880 bricks, so we won't be able to fill that with just our own veterans. Now we can open it up and honor those that have served in the surrounding area."
Related Articles
Enjoy this post? Share it with others.