Dear John: My Neighbor Is A Pervert
Wednesday, December 12, 2012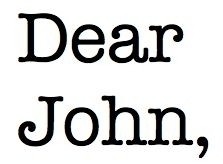 What's your problem? Write to John at
[email protected]
Dear John,
Occasionally, I can see that my next-door neighbor is watching pornographic movies. (Our houses are pretty close together.) It's not as though it would be visible to someone walking by on the sidewalk, and I live alone so I don't have kids who might see. But I must admit, I hate knowing that's what he's doing. Should I tell him he might want to pull the shade? I hardly know the guy, but I've come to think of him as the pervert next door.
Sincerely,
I'd Rather Not Know

Dear Rather Not,
If it bothers you so much, have you considered simply pulling your own shade? And if that makes him a pervert, I'm not sure what would pass for normal in our pornography-saturated culture.
Dear John,
Now that school is back in session, my girlfriend wants to earn a little extra money by posing nude for art students. I really dislike this idea because I don't want a bunch of horny college guys ogling my nude girlfriend, plain and simple. She says I'm a closed-minded philistine, there's nothing sexual about it, and if I have a problem with it, that's MY problem. What's your opinion?
Sincerely,
Drawing the Line

Dear Drawing the Line,
I actually have two opinions: one about this situation and one about the way you're both dealing with it.
First, on posing nude: your girlfriend is being naïve if she thinks this is not a sexual situation (although I'm sure for her it is not). When a guy is in a room with a woman whose clothes are off, for the guy, that's a sexual situation. (What's really laughable is the notion that a guy who's a painter would not sully the purity of his art with carnal thoughts. They're the worst ones!)
But so what? So a "horny college guy" looks at your nude girlfriend. What's going to happen? I'll tell you what: he's going to think to himself, "She's hot / she's not hot / she has too much this / she's got great that" etc. while he draws a mediocre-to-bad picture of her. That's what will happen. You have to ask yourself why that bothers you so much. Which leads to my first opinion: you're way too controlling. Your girlfriend wants to do something perfectly legitimate to earn some money I assume she needs, and you're basically forbidding it like she's a child and you're her dad. This is a very bad sign for your relationship.
Another bad sign is the way the two of you deal with problems. You both sound very rigid and closed to your partner's point of view. A disagreement that should be an opportunity to listen and also to be heard becomes two people with their arms crossed standing back-to-back. This has nothing to do with the merits (or lack thereof) of posing nude. This has to do with what you both do when you disagree.
For your relationship to have a chance of success, you have to stop thinking of a girlfriend as something you own. And you both have to find a way to solve conflicts that goes beyond "This is what I'm doing whether you like it or not."
Dear John,
I recently had my house painted. I spent a lot of time selecting the colors and the painter I hired did a great job. Now one of my neighbors takes every opportunity to passive-aggressively let me know how much she dislikes my color choices. Did you consider this color, did you know how much these flowers would clash with the house, did you want it to be that dark, things like that. This is really starting to get to me - what can I tell her to get her to drop it?
Signed,
Color Me Annoyed

Dear Annoyed,
I'm not sure it will get her to drop it, but simply tell her that your choice of house color seems to be some kind of preoccupation with her and while you appreciate her interest, you're very happy with your house. If she continues to bring it up, remind her that you've already had this conversation, it wasn't particularly interesting the first time, and it certainly isn't more so now.
John is a middle-aged family man from Providence. If you learn from your mistakes, he's brilliant. Write to him at [email protected]
Related Articles
Enjoy this post? Share it with others.