Elisa D'Arrigo Opens at RIC's Bannister Gallery
Thursday, October 06, 2011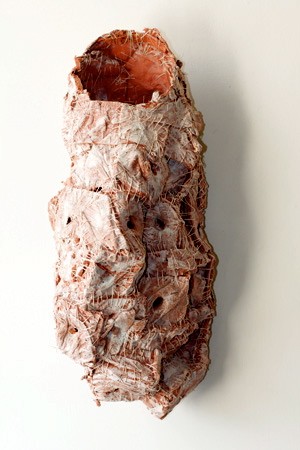 Tonight, Thursday October 6 at 5 pm, marks the official opening of a new exhibit at the
Bannister Gallery
. For the first time,
Elisa D'Arrigo
will show her work in both Rhode Island and New England. Her art is sculptural, unique, and sometimes reminiscent of something from a Tim Burton movie. For this show, the work is primarily consists 3-d works made of cloth and paper, aided by thread and acrylic paint. D'Arrigo's work feels as though it is breathing and her personal artistic effort to capture her personal memories in her work is refreshingly unconventional.
How to look at D'Arrigo's work
Surveying the show, it is hard to decipher the fact that D'Arrigo was trying to recreate a piece of sky seen through city buildings or recreate stonework from Chaco Canyon in New Mexico, but with some extra looking it is all there in a very unusual way. Her aim to make something physically abstract translate into something representational does not distract from the actual work. Regardless of what the Frankenstein-esque sculptures are supposed to signify, they still work very well as just abstract organic sculptures. D'Arrigo has mastered the art of letting her work lead the way in her process and embracing happy accidents that happen during the process of weaving together her work, lessons any art student needs to learn.
Bannister curator Doug Bosch
This exhibition is also a labor of love for the curator, Doug Bosch, a faculty member of Rhode Island College's art department. He had seen the D'Arrigo's work in 2006 at the Dorsky Gallery in Long Island City. Bosch realized the positive influence this artist's work would have on his students, many of whom work with fabric and use the process of sewing in their own artwork. It is important to note that the process of putting together an exhibition can be difficult and gallery schedules are often made months, if not years, in advance. Even though there will not be any new work making its debut at the Bannister tonight, this exhibition should be both a feather in Bosch's cap and a wonderful opportunity for the Rhode Island community to take advantage of D'Arrigo's first efforts toward bringing her body of work the New England.
The exhibition's reception is from 5-8 pm. Gallery hours during exhibits are Tuesday through Friday, noon to 8 p.m. Exhibits and events are free and open to the public. Accessible to persons with disabilities. Phone (401) 456-9765.
Related Articles
Enjoy this post? Share it with others.