Organize and Energize: 6 Ways To Stay Focused
Tuesday, May 06, 2014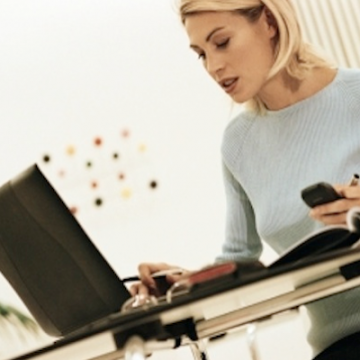 Recently, a GoLocal reader sent me a question.
Q. When I start an organizing project, I find myself bouncing around from room to room. Hours later, the project is still not completed. I have a mess in 3 different rooms and I'm exhausted. How do you stay focused and not get distracted?
Aside from organizational skills not being developed, the reason people never finish a project is that they get too distracted. The biggest mistake people make when organizing is leaving the room they are working in or choosing to answer the phone, check social media, or check their email. These are all distractions and will cause you to lose focus. The minute you leave the room you are working in is the minute you will lose focus, get distracted and then it's all downhill from there.
Here are 6 ways to stay focused:
When sorting through items in a room, aside from your keep, toss, and, sell pile, have a move to another room bin. Place anything in that bin that you are moving to another room. When you are finished organizing, you can make your way around the home and transfer items to the rooms they belong in.
Try not to answer your phone, check your social media or emails when you are organizing. These are distractions and will again cause you to lose focus and reduce your productivity.
If you have children, try to make arrangements to have somebody watch them during this process. You will find that you will work much quicker when you work by yourself.
Don't get caught up in reading magazine articles or reminiscing about sentimental items. If it's a magazine article you want to read, put it aside and read it when you have time. If you want to reminisce about sentimental items, decide what you want to keep and save that for another time. This time is reserved for organizing and that is what you are supposed to be doing.
Limit your project to 3 hours. You will hear me say this often. Any more than 3 hours and you will get stressed, overwhelmed, tired and hungry. If you hit the 3 hour mark, stop, take a break and go back to it later in the day or start fresh tomorrow.
Most people would rather be doing anything else than organizing at that moment. Believe it or not, some get a headache, dizzy, and a little nauseous because the entire process is just too overwhelming. To deflect the situation, most people will wander into another room with one item. They will do this numerous times. This process of moving one item at a time can be exhausting which is why you need to stay in the room you are working in. You will waste more energy and time when you quickly move back and forth from one room to another.
Make a plan to tackle your project and use the tips I just discussed. You will find that you will finish your project in record time with little to no stress. When your project is completed, you will be motivated and energized to move onto other projects in your home.
---
Related Slideshow: 5 Organizing Blunders
Avoid these mistakes and your project will take less time than you expected. You won't be as stressed or as overwhelmed as you anticipated. You will be amazed at what you have accomplished. You will be motivated and energized to tackle another project.
Enjoy this post? Share it with others.