Experts Weigh in on Restaurant Inspections and Foodborne Illness
Tuesday, August 27, 2013
While restaurant inspections are required throughout the country, how they are conducted, recorded, and utilized varies greatly among towns and cities.
The City of Boston, for example, has an online database that enables the user to search establishments by name or neighborhood, and see the detailed inspection report.
If you're curious to see how your favorite restaurant stacks up, or interested to learn how one you've never been to before checks out, the information is there at your fingertips, a click of the keyboard away.
In Worcester, records of food inspections are kept at the Office of Inspections at 25 Meade Street, where manila folders line file cabinets with paper reports, written up and scored by inspectors.
The data clearly shows that the establishments have been reviewed, and graded, but the results of which require a small degree of elbow grease to uncover.
With the American Association of Pediatrics recently reporting that the CDC claims that 31 pathogens cause 9.4 million cases of foodborne illness each year, how do you know how safe your food is -- and what the government is doing to help keep you informed>
Foodborne Illness - a Doctor's Perspective
Dr. Jennifer Daly, MD, who is Clinical Chief of Infectious Diseases and Immunology at
UMass Memorial Medical Center
, offered the following insights into the nature of foodborne illness.
"From an educational standpoint, there are different types of foodborne illness. There is the classic "food poisoning", generally caused by a toxin in the food that causes diarrhea or vomiting," said Daily. "The toxin can be made by "staph" -- Staphylococcus aureus – a bacteria," said Daly. "This is where the "food" fits in -- by the time the person gets sick, it's not the bacteria, it's the toxin that causes the symptoms."

"What people should understand is that foodborne illness is anything in the food that made someone sick - it's either in the food itself, or from someone sick who handled the food. Examples: Hepatitis A in shellfish, or Salmonella (a bacteria) in deli products turning into a toxin."

Daly explained what was able to be traced by authorities in the realm of food poisoning. "What we're able to track best are organisms or testing that shows up in the laboratory—Listeria, Salmonella, Streptococci, for example. Each doctor who orders tests for a suspected foodborne illness gets the results, and the infection control department gets that info as well, which is automatically sent to the state Department of Health."

"Individual cases don't necessarily help, until our hospital, or several, along with the Department of Public Health says, "We have a problem here," at which point they'll go to individuals who are sick, do case-control studies, and work immediately to shut down the source," said Daly.

"It can be very difficult to pinpoint "food poisoning", especially with simply gastrointestinal symptoms. People often want to point the finger to the last meal they had, which oftentimes might not be the case. And you can't implicate a restaurant on simply one case, or without proof -- again, it needs to be something that can be confirmed by a study or detected by a lab," she said.
National Expert Weighs In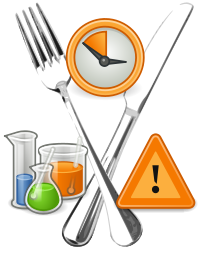 "It's a complicated field," said Roy Costa with
Environ Health Associates
of food inspections. Costa, a national expert, offers training programs, as well as auditing and consulting services to meet local, state, and federal laws and rules pertaining to food safety.
"You have the government, as well as private entities such as myself going into places...as well as quality assurance departments from companies, for food chains, for instance," said Costa. "The problem comes with the proprietary restaurant, or caterer operating on a shoestring. 90% of these people don't have the foundation for a food safety program, and they simply lack basic understanding of the undertaking."
Costa, whose degree credentials include a B.S. in Biological Sciences and a M.S. in Health Services Management with an Master of Business Administration, is a registered sanitarian with over twenty-five years of experience in a broad range of public health protection and promotion activities, food safety is a specialty and had conducted over 10,000 inspection of a wide range of facilities.

Costa took the situation at face value.
"There's a huge knowledge gap between the scientific community and the world of the restaurant. They're on different planets, if you will," he said.
"What helps is when they enact mandatory food training programs, and just citing codes that they don't understand, or have been exposed to," said Costa. "An education component is crucial."
Looking at results of any inspection overall, to Costa, is basic at best, but oftentimes inconclusive, when it comes to food safety. "What does the inspection really mean? That's debatable. The inspector's in there one or two times a year. If it's a really bad situation, they'll shut it down. Regular inspections are a hammer -- a blunt instrument. If you need to hit someone over the head, you have the tool."
"In the private sector, we have auditors go in with standards....the company we go into has been versed in this standard, we can gauge the capacity to prepare safe food on a regular basis."
So What Does the Data Mean?
"For the most part, inspections can be in large part guesswork. It can be an arbitrary system in place. The data...a lot of things start to pop up. There's bias in the system -- all of a sudden you have massive data that doesn't mean anything, you have a baseline of 3 or 4 violations on average."
"It's hard to make sense of what you have there in terms of the data," continued Costa. "The focus seems to be honing in on the "really bad" players. But is that really the then most risky? That question is probably not because there are things going on in an operation that rarely get observed, such as the sick employee. The inspector doesn't know this. They're not asking about employee screening process. That's not always required, and that can be a major culprit."
When to Inform Public -- and How
"The questions of food safetly is heavily debatable and under intense discussion, between the FDA and local levels -- how to create protocol, when to go public -- how many cases, did they get them in time, do you have or not microbiological results?
Costa was referring in part to the FDA's "Food Safety and Modernization Act" that Congress approved in 2011. "Two years later, FDA is still in the process of implementing the FSMA's provisions -- and one in six Americans is falling ill to food poisoning each year, to the dismay of food safety advocates," reported Consumer Affairs' James Hood just last week.
Costa lays it out at the local level.
"You've got variations in what gets reported, but the question is, how do health departments react to this type of data?"
"So what happens if people call in and say they get sick...the health departments do the best the can. If there's a confirmed outbreak...if they find a microorganism in the food, and in the victim. Most health departments at that point are going to be pretty open and advise the public about the situation.
Why should they do that? Why? So people won't go to that restaurant anymore? Should people have the choice to know that there was a risk there -- what if the health department couldn't put the finger on why it occurred?
Costa touched upon the elephant in the room, which is the ever present legal issue.
"It's an upfront issue, and they know it. Especially with foreign products, the questions is when you can incriminate a business," said Costa.
"Del Marquis sued recently over a cantaloupe epidemic, the FDA for going public over epidemiology," said Costa. Despite any chilling effect, he thought food servers should be as transparent as possible.
"My opinion is that health departments, should tell us what they know. If they suspect, and haven't confirmed, they can let us know just that," said Costa.
FDA doesn't have direct control, only an advisory capacity. They can only say, here's the protocol to follow. Some might follow, so might not.
How to Best Keep Track?
"The way that the data is kept, analyzed, reported is across the board. Every jurisdiction has a different take on this. There's no particular methodology that's the norm. One of the things that is a huge trend, and the industry is fighting, is the mandatory grade -- where the restaurants get a letter grade that then is posted," explained Costa. "Some states have them, and some states don't."
Is centralization the answer? Based on his exprience, Costa doesn't think so.
"In Florida, for example, we have a state inspection program. We used to have county by county. Through some political maneuvering, the restaurant industry, who saw it as an opportunity to oversee and control the process...made the play for less red tape. That's what happened. And when this occurred, foodborne illnesses jumped."
"1992 was when the switch was made....by 1995 we had a jump of 20 reported outbreaks to 400, because the program was in total disarray, because when you pull them out of their offices, the inspectors aren't seeing what they're used to seeing, detecting."
It's taken 20 years, but it's down to 50 outbreaks a year...but it took that long to take the turbulence out of the system.
Costa pointed out that government agencies themselves were very difficult to implicate -- or litigate -- in the event of foodborne illness.
"There's a veil of immunity, sovereign immunity....every government agency....you cannot sue without a tremendous amount of evidence.
There as a case I was involved with out west where we tried to sue. It was an egregious issue...a foil wrapped baked potato that cause a botulism illness.. A health inspector months before noticed an issue that wasn't enforced. We ran into so much difficulty trying to untangle the codes and limitations of how the Health Department assessed fines...the county had so many loopholes.
The fact of the matter is that the medical community -- doctors, etc. -- are not necessarily seeing the foodborne illness thing as major focus. It doesn't put money in their pockets, they don't send in for expensive tests," surmised Costa.
"The unfortunate thing is these foodborne agents become invasive....sometimes it can get caught too late. It can be e.coli. It's really a non-issue until you're on death's door...they'll do the bloodwork, stool culture, unfortunately by that time, you're in bad shape."
Enjoy this post? Share it with others.