NEW: City Manager Projects $5.8 Million Budget Shortfall for FY14
Wednesday, March 13, 2013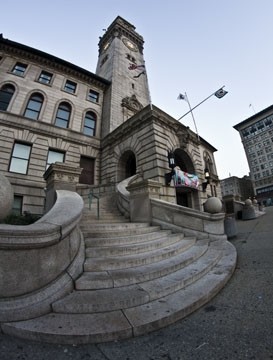 City Manager Michael O'Brien delivered his budget preview presentation for FY14 to the City Council on Tuesday, outlining the $5.8 million budget gap that he will attempt to close in the next 45 to 60 days as the state aid picture becomes clearer.
O'Brien said City finances are stable and the City's staff is leaner and more efficient than it has ever been, but an expected increase of 8 to 10 percent in employee and retiree healthcare costs and a $2 million increase in the City's pension assessment, as well as the Council's prioritiy of a police recruit class of 25 at the cost of $1.8 million and education cost increases, all add up to the current projected shortfall.
However, lower staffing levels will mean fewer services, and O'Brien characterized Worcester's unfunded liabilities in the form of retiree health benefits (OPEB), which currently stands at $656 million, and pension costs as "ticking time bombs."
"The reality is that now in less than five years, these costs for OPEB will draw away from our ability to provide basic services," he said.
At the same time, O'Brien said the City's revenue outlook was "encouraging." Worcester has seen a minor upward trend in recents from motor vehicle excises and permits, and property taxes are up 2.5 percent with new growth.
"State aid remains a big question at this point," O'Brien said.
The Manager's current budget projection includes $35 million in unrestricted local aid for a total of $38 million inclusive of restricted state aid, the same amount Worcester received for FY13. That number is down 34 percent since FY08, even as the City's education aid in the form of Chapter 70 and charter school funding has increased 27 percent during the same period to a projected $227.7 million in FY14.
But despite the increases in state aid, Worcester's required contribution to the Worcester Public Schools has increased as well, from $80 million in FY08 to $92 million, and the City remains almost $900,000 below the state's net school spending.
One area of sharp cost increases on the school side has been transportation spending, which is considered non-school or -classroom spending and therefore is not funded by the state. Since FY11, transportation spending has increased by 20 percent, or $2.7 million, from just over $13 million to a projected nearly $16 million for FY14.
On the City side, the Police budget has increased 4 percent since FY08 from $40.1 million to $41.8 million in FY13. In the same time period, the DPW budget increased 2 percent from $12.1 million to $12.4 million; the Parks budget increased 3.6 percent from $3.85 million to $3.99 million; and the Fire budget decreased by 1.3 percent from $34.1 million to $33.7 million.
The Councilors applauded O'Brien's work but noted difficult decisions still lie ahead for the City.
"This is not going to be without pain in the end," said Councilor-At-Large Kathleen Toomey.
"There's going to be cuts that are going to be felt," she said, adding that the City must work very hard to try to minimize the impact of those cuts on residents and services.
Related Articles
Enjoy this post? Share it with others.