Investigation: Brown Spent 77 Percent of Campaign Millions Outside Massachusetts
Thursday, September 27, 2012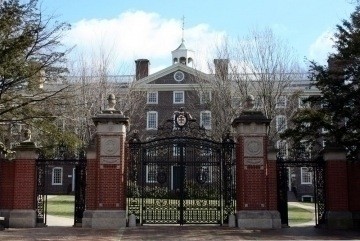 Republican Senator Scott Brown has not fared much better than his Democratic opponent Elizabeth Warren when it comes to pumping campaign funds into the Massachusetts economy.
This election cycle, $2,865,630, or just over 23 percent, of the Brown campaign's $12,269,454 in spending was disbursed within Massachusetts, according to Federal Election Commission finance reports filed through August 17 of this year. Of the $15,946,480 disbursed by the Warren campaign, $3,205,617, or just over 20 percent, was paid out in the Bay State.
Economic Impact on Massachusetts
As reported on Wednesday, the Massachusetts Senate race has seen a combined $22 million in spending by Brown and Warren outside the Commonwealth. The state's economy has continued to struggle, with seasonally adjusted unemployment rising to 6.3 percent in August, and jobs have been a top priority for both campaigns.
According to Richard Wolff, a professor emeritus of Economics at UMass-Amherst and a visiting professor at the Graduate Program of International Affairs at the New School University, $22 million would be enough to hire 400 employees at the state's annual mean wage of $54,740, which could make a big difference in Massachusetts.
"The spending of their incomes by these 400 newly hired workers would in turn stimulate the hiring of 2.5 times 400 or a nice, neat 1000 workers whose personal, family and community lives would be transformed in the process," he said.
In a recent campaign ad, Brown visits an unemployed single mother in Shrewsbury, who tells the Senator she wants to get back to work and get her life on track.
"To me, creating jobs is more important than what party you belong to. That's why one of the first votes I took as a Senator was for a Democratic jobs bill," Brown says in the 30-second television spot.
Yet with nearly $10 million in campaign funds going to companies outside the Bay State, the number of local jobs Brown could potentially create by spending in Massachusetts is limited.
Media buying and placement for television and radio ads has been the largest expenditure for both campaigns. While airtime is ultimately purchased from local stations and affiliates throughout the state, the media buying agency's commission, which can run up to 15 percent, stays in the firm's home state.
Michael Kanter, a founding member of Cambridge Local First, a network of locally-owned and independent businesses, said the candidates may have missed an opportunity by not doing more to support local businesses in Massachusetts.
"It's one of those obvious things that you would think, at this point in time, candidates would try to make even a big deal about," he said.
"Ethically, I think it's the right place to go."
Kanter, who owns Cambridge Naturals with his wife Elizabeth Stagl and is a member of the executive committee at Cambridge Local First, founded in 2005, said the local movement crosses political lines.
"That's one of the nice things about it. People from many walks of life can participate and are eager to participate."
The decision by the campaigns to go out-of-state may be based on financial considerations, said Victor Matheson, an associate professor of Economics at College of the Holy Cross, because companies handling a high volume of political races can produce materials at a cheaper rate.
"These aren't necessarily partisan, it's simply that there are cost savings you can have from locating stuff centrally like that."
Bill Miller, president of the Holliston mailing house New England Professional Systems, said his company has handled state Representative and state Senate races, but the larger races often get grouped together and sent to a select few suppliers.
"We used to do more political mailings than we do now, but we've never done some of those really big ones," he said.
Tony Penny, of Auburn's American Printing & Envelope Co., said the printer typically only sees political work from very local races.
"We haven't been doing any political work this year," said Jim Doray, production manager at Miles Press, Inc. in Worcester.
Jean Publicover, president of Konjolka Media, a Boston-based media planning and buying agency, said her company has seen a decrease in political campaign work as more and more candidates use the same few national strategists.
"That's all they do, and they go from campaign to campaign across the country."
Publicover said most of the people who worked on political media in the Commonwealth in the past did so for Massachusetts candidates, but campaign work in general has begun to dry up in the Bay State.
"I think that's across the board," she said.
"I think anybody in Massachusetts that has been doing it, it isn't there this time around as it has been in previous years."
While Brown and Warren are only buying television time in Massachusetts, said Matheson, that does not necessarily mean the Bay State is the final stop for their campaign cash.
"Even though money pours into local stations, a bunch of that money might end up in corporate headquarters outside of the state."
Where Brown's Money Went
Multi Media Services Corp., based in Alexandria, VA, received $5,933,220 of Brown's campaign money for media placement services. The company's list of past clients includes Bob Dole for President, former Pennsylvania Senator Arlen Specter, and the U.S. Chamber of Commerce.
The Brown campaign spent a total of $1,468,556 with SCM Associates of Dublin, NH on direct mail, printing, postage and finance consulting according to FEC reports.
Headed up by President Stephen C. Meyers, SCM Associates is a leading Republican direct response firm. The company's website lists Brown alongside Paul Ryan and Wisconsin Governor Scott Walker as featured clients for 2010. Oklahoma Senator Jim Inhofe and Mitt Romney's 2008 presidential campaign are also listed.
Located in Saint Paul, MN, FLS Connect is political and constituent communications company, which provided the Brown campaign with $248,141 worth of data management services, telemarketing and fundraising phone calls.
The interactive advertising agency Targeted Victory in Arlington, VA received $319,662 from the Brown campaign for digital consulting and media. The firm is also handling digital duties for Republican presidential candidate Mitt Romney as well as the Republican National Committee.
Online strategy firm The Prosper Group, with offices in Greenwood, IN and Alexandria, VA, worked on Brown's winning campaign against Democrat Martha Coakley in the 2010 special election for the late Ted Kennedy's seat. The group is working with the Senator again this year, and received $21,473 from the campaign for web services through mid-August.
Boston's BFSDaniels/Copycop handled much of Brown's local printing. Supervisor Mike Clark said the company does receive a lot of work from political campaigns.
"It's usually in-state," he said. "There's a lot of city stuff, the senate obviously, a lot of district and local stuff."

Related Articles
Enjoy this post? Share it with others.