St. John's Faces Western Mass Champ in GoLocal High School Football Game of the Week
Saturday, September 15, 2012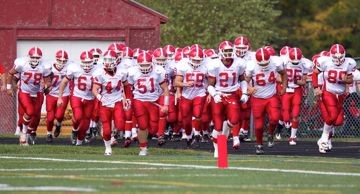 The threat of West Nile virus and EEE has pushed a number of high school football games back to the weekend, but that isn't stopping GoLocalWorcester from bringing you highlights from this week's marquee matchup.
Longmeadow at St. John's Shrewsbury: Kickoff at 1 pm Saturday.
Why is it a must-see game
St. John's barely edged Longmeadow in last year's meeting, beating the Lancers 26-21. The Pioneers consistently schedule difficult games out of Central Massachusetts, and this a great example of an inter-region showdown. St. John's is looking to prove it is once again Super Bowl caliber, and the Lancers will hope to show they can compete with the best in Central Mass, having dropped three straight games to the Pioneers.
St. John's Offense vs Longmeadow Defense
Scoring was not a problem for the Pioneers last week, as they racked up well over 400 yards and 47 points against rival Holy Name. St. John's was led by senior running back Shad Abrokwah, who rushed for three touchdowns and over 200 yards, along with new starting quarterback Drew Smiley who compiled over 360 yards of total offense and four total touchdowns.
The physical Longmeadow defense may be gasping for air as St. John's rolls out its new "Blur" offense for the second week in a row. The offense utilizes the no-huddle, often running plays within 10 seconds of the previous play ending. Smiley appeared to be the perfect fit for the new offense last week, as he showed the ability to make plays with both his arm and his legs.
Wide receiver and captain John Giacoppe believes his offense is up for the challenge of facing a tough Lancer defense.
"It's going to take a lot of hard work and some heart that I know we have," Giacoppe said. "We are really pumped up for this one and we cant wait to play it. Should be a good game."
St. John's Defense vs Longmeadow Offense
While St. John's has the look of a potential offensive juggernaut, the defense didn't fare quite as well. A large problem, in particular, was the team's rush defense. While the Pioneers were facing one of the best backs in the region in Holy Name's Quron Wright, they still surrendered nearly 300 yards on the ground.
That has to be a concern, but St. John's is breaking in several new players along the defensive line. Look for senior linebacker Barron Dandridge and senior defensive end Andrew Sullivan to play big roles in correcting that issue, as it appears the talent is in place for the Pioneer front to be stout.
"We have to come out and play physical and set the tempo from the first play of the game," Dandridge said.
That front will need to be on its game against the run-first, Wing-T offense the Lancers employ. Quarterback Frankie Elder rushed for four touchdowns and threw for another last week, so shutting him down will be key for the Pioneers.
Be sure to check back after the game for full highlights in the sports section.
Related Articles
Enjoy this post? Share it with others.