Worcester Inner-City High School Football Preview
Tuesday, September 04, 2012
It was a disappointing year for all of Worcester's inner-city high school football teams last season, as none of them finished with winning records.
Still, Doherty was able to capture the Inter-High title with a convincing sweep of the other teams in the district. This year, however, both North and South High appear to be on the rebound, and Doherty may have a bit more competition in their yearly quest to be the kings of Worcester High School Football.
Here is what to expect from each team in the city, in the order they finished last season.
Doherty
Despite only going 4-7 overall, Doherty was dominating in Inter-High, cruising to a 3-0 records and outscoring inner-city competition 97-21 in the process.
Doherty will have to replace senior running back Jamal Munn on offense, but returns now-junior quarterback Luke Brennan and now-senior receiver Noah Robinson. Doherty also returns its leader on defense.
At 6-foot-4 and nearly 220 pounds, Noah Robinson is an imposing force, but also a productive one. Robinson led the Highlanders with 94 tackles in 2011, and also scored four touchdowns on the offensive side of the ball.
Worcester North
Worcester North had a rough go of it in the beginning of 2011, but closed out the year strong, winning two of its last three games. A breakout performance by Sergio Soltau led to the team's first win over Murdock late in the year. Then a junior, Soltau returned an interception 45 yards for a first quarter touchdown to give North the lead.
Then, late in the fourth, Soltau ran in another touchdown to put the game out of reach. North also scored a close victory over rival South to end the year on a winning note. With touchdown runs from Soltau and then-freshman Jose Barbosa, North showed it has some young talent coming back.
With a big, physical defensive line and some speed at linebacker, North hopes it will be able to contain the run a little better this season, and continue to pound away on the ground offensively.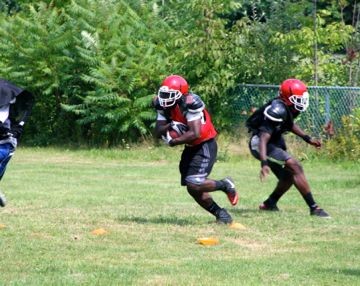 Burncoat
Burncoat's 2-9 record could largely be attributed to a brutal non-league schedule that included the likes of Leicester and St. Peter-Marian. Still, the Patriots did score an impressive early victory over Worcester Tech and gutted out a one-point win over South in the middle of the year.
Offensively, the Patriots will have many questions to answer. Burncoat will have to replace quarterback Drew Sunden, along with receivers Henry Vilaivanh and Matt Lavin. At running back, Nick Vilaivanh leaves due to graduation as well.
Worcester South
Coach Jerry Snay left South following the 2008 season after a run of success that included a 2006 Super Bowl victory. Now back on the South sideline, Snay brings with him a diversified offense and simplified defense.
The first thing Snay did at South was declare all positions open for competition, meaning that some South players who had held starting spots for three seasons were suddenly fighting for their jobs again. He hopes that this approach will light a fire under his young, but athletic team, and promises to have a few surprises up his sleeve for Thursday's opener against Worcester Tech.
Related Articles
Enjoy this post? Share it with others.