MA Beauty Insider: Romantic Valentine's Day Style
Saturday, February 08, 2014
Roses and hearts take center stage on Valentine's Day. But like the maligned Christmas sweater, you don't want to overdo the theme. Tarry here for ways to infuse a little romance into your Valentine style:
Red nails
Wear all black if you must but turn your nails into mini jewels. Fire engine red, sparkly vamp, or cherries in the snow - shiny nails in the red family look so festive. And if you're an extra blessed this Valentine's Day, red and diamonds look smashing together! Be prepared just in case.
Red lips
Iconic red lips speak passion. Choose a hue that works with your coloring: blonds look great in pinky red; dark-haired, think deeper burgundy. There are many luscious variations. Remember to go lighter on eye makeup and soften the blow with a swipe of gloss. He won't be able to keep his eyes off your kissable lips across that candlelit table.
Wardrobe touches
Many women feel that red is not their best shade. Enter accessories: try a warm cashmere shawl in garnet, red's softer sister. Wear it as a scarf over your coat and then drop it across your shoulders at the theater or restaurant for color as well as warmth. Keep your outfit monochromatic in dashing greys or cozy browns. Sophisticated and old-world romance at the same time.
Jewelry
We got the BFF thing between diamonds and red but how about a pretty enamel heart-shaped brooch on that fur scarf? Maybe Mom has a gorgeous 1960's cocktail ring or a pair of vintage rhinestone earrings in her jewel box. What day is better for a little bling than dreamy Valentine's Day? If not now, when?
Underpinnings
No discussion of Valentine style is complete without lingerie. A romantic dinner for two is the perfect time for black or red lace under your warm sweaters. Tarting it up just a wee bit is not completely out of realm and sets a mood. For love, that is.
An unexpected touch
Lastly, if he charmed you with confections and filled your home with red roses, claim one especially perfect blossom to carry along with your evening bag. It's a beautifully feminine soupçon and will look sweet resting on the dinner table and all who pass will know what a lucky girl you are!
Donna Macdonald is a freelance writer who enjoys covering topics of interest to women, especially fragrance, style, beauty. She has also written marketing material for a women's book that hit the New York Times Bestseller list and netted her an up close and personal discussion on the Oprah Winfrey Show. Donna currently writes her own personal blog, alovelyinconsequence.blogspot.com where she also writes about issues close to a woman's heart. Donna believes that when a woman finds beauty in the world, she will find beauty in herself.
---
Related Slideshow: 10 Valentine's Day Gifts for Her
Prev
Next
A Charming Gift
Show your special someone that you cherish them this Valentine's Day by giving them a unique gift from Alex and Ani. The popular Rhode Island retailer has outdone themselves this Valentine's Day season offering a variety of gifts -- including bangles, wraps, and earrings. You can even personalize your piece with a cupid or heart charm.
Price: $28 and up
Buy it from: The Paper Store, Millbury, Hudson, Leominster, Shrewsbury
Prev
Next
Specialty Chocolates
It's been said that they fastest way to a woman's heart is through her stomach and who are we to argue. This Valentine's Day, pick up some tasty handcrafted chocolates from Hebert Candies. Hebert offers over 50 different Valentine's Day candy packages sure to please even the most discerning palate.
Price: $6.95 and up
Buy it from: Hebert Candies, Shrewsbury
Prev
Next
A Day at the Spa
Treat that special someone in your life with a day at the spa this Valentine's Day at Bellisimo European Day Spa. Bellisimo offers a wide variety of services including skin rejuvenation, massage therapy, skin care treatments, spa body treatments and spa experiences.
Price: Prices vary by service. Visit their website or call 508-799-7767 for more information.
Buy it from: Bellisimo European Day Spa, Worcester
Prev
Next
A One of a Kind Item
Is your partner a bit eclectic? If so, Funky Stuff is sure to have the perfect gift. This unique store sells an array of gifts including fine art, clothing, handmade jewelry, gems and minerals, and locally made holistic products. Click here to see what Funky Stuff has to offer.
Price: $2.50 and up
Buy it from: Funky Stuff, Worcester
Image: Huge heart shaped Amethyst for sale at Funky Stuff
Prev
Next
A Beautiful Bouquet
Nothing says "I love you" on Valentine's Day like a wonderful bouquet of flowers. Express your love Valentine's Day beautiful and affordable flowers from Perro's. From romantic roses to impressive modern bouquets, Perro's offers over 30 different Valentine's Day special that are sure to please even the most discerning eye.
Price: $42.50 and up
Buy it from: Perro's Flowers, Worcester
Prev
Next
A Romantic Evening
Did you know that many components in Japanese cuisine have long been known to be natural aphrodisiacs? Ingredients such as rice, wasabi, ginger, unagi, sake, even shitake mushrooms can fuel romance. So if you're looking to start your evening with some natural and edible sparks, join 7 Nana on Valentine's Day, February 14th, and either choose from their regular dinner menu, or make your reservation for one of their special prix fixe menu seatings and enjoy a special Valentine's Day menu.
Price: $79 per couple
Buy it from: 7 Nana Japanese Steakhouse, Worcester
Prev
Next
Warm Woolies
Gifted socks don't have to be a boring practical gift when you choose a few pairs from the French Twist Boutique. Make a bigger impact with three or four pairs of P.J. Salvage socks partnered with another winter accessory life a scarf or a hat.
Price: $17 per pair
Buy it from: French Twist Boutique, Worcester
Prev
Next
Luxurious Body Care
Thymes Olive Leaf bath products make a stunning impression. Besides the packaging being festive and pretty, the olive leaf extract and shea butter draw a tapestry of scent on her skin. Put together a combination of bath powder, lotion, and soap and then give her an hour to herself, no questions asked. Your Valentine will find one hundred ways to thank you
Price: $14-$30
Buy it from: Bhadon Gift Gallery, Worcester
Prev
Next
A Music Lover's Dream
Does your Valentine have an affinity for classical music? How about taking her to the Blithewold Mansion on Valentine's Day for a concert she'll never forget. The Seven Hills Symphony's Winter (Valentine's Day) Concert, which will take place Feb. 14 from 7:30pm to 9pm, features an all-Romantic program. The concert will include the first movement of Dvorak's Cello Concerto and the first movement of Bruch's Violin Concerto No. 1. Click here for more information.
Price: This is a free event, but donations are encouraged.
Where: University of Massachusetts Memorial Medical Center, Worcester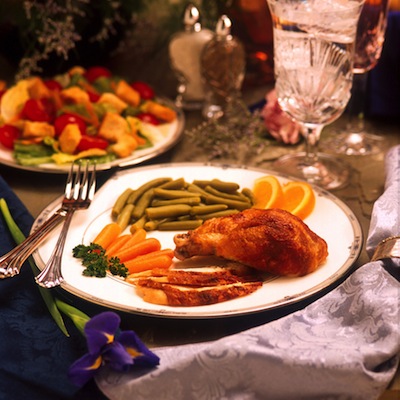 Prev
Next
Romantic Dinner at Home
Who doesn't love a home-cooked meal, especially when someone truly special prepares it? Pick out a cookbook with a lot of personal and memorable recipes that were his favorite dinners growing up, or the meal that she had on your first date. Then, as a bonus, offer your companion the opportunity to pick out a three-course meal of their choosing from the cookbook, prepare it, and have a nice dinner in for your Valentine's Day.
Price: Call 508-796-5613 or click here.
Buy it from: Annie's Book Stop, Worcester
Related Articles
Enjoy this post? Share it with others.