Central MA Native Returns as Disney's "Ferb"
Friday, November 16, 2012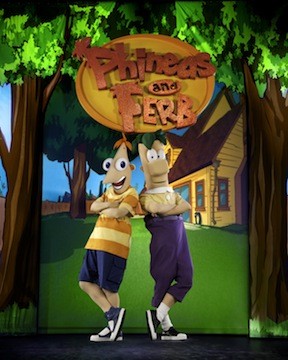 As families flock to
the Hanover Theatre
to catch Disney's "Phineas and Ferb" this week, one of the show's lead performers is simply coming home.
Nicholas Bouthillette, an Oxford native, plays the role of Ferb, and will appear in two more performances of the smash tour "Phineas and Ferb: The Best LIVE Tour Ever!" tonight at the Hanover Theatre. While his touring with the
Walt Disney Company
has allowed Bouthillette to travel all around the world, he says he especially enjoys coming to Worcester.
"I love it because I get to see my grandparents," Bouthillette said with a chuckle. "I live in Orlando, and they're a little bit older, so traveling is difficult. Right now I'm in a great situation because I'm getting paid to come and see them."
Bouthillette began his career with Disney in 2005 working at the Walt Disney World Resort. After impressing at a live casting call, Bouthillette scored a role as Leo Einstein in "Playhouse Disney Live," and toured the world, performing in Europe, South America and the Caribbean.
After graduating
St. John's High
in Shrewsbury in 2003, Bouthillette moved on to
Barry University
in Miami, Florida. While he sees his immediate future with Disney, his long-term goals involve far more than performing.
"I do hope to continue with Disney Live, but at some point I definitely want to go back to school for my master's and become a special education teacher," Bouthillette said. "I just have a real soft spot for children with special needs, and that's something else I have a passion for."
Bouthillette is not the only Bay State native with the show enjoying his time in Massachusetts. James Shea of Randolph is the show's Performance Director. After getting his start with Disney as an intern out of
UMass Boston
, Shea joined Disney Live the same time as Bouthillette, and is now in charge of making sure all details of the live shows he oversees are up to the high standards set by Disney.
While he also lives in Orlando, he still thinks of the Commonwealth as home.
"I definitely still view Boston as my home," Shea said. "(On the tour) we're hitting up around 70 cities, and we're not even half done. I'm kind of known as the city boy, so I'm really excited to get to places like Los Angeles and Chicago."
The Hanover Theatre will host two more performances of "Phineas and Ferb: The Best LIVE Tour Ever!" tonight, the first at 4 pm and the second at 7 pm. For tickets and more information,
click here.
Related Articles
Enjoy this post? Share it with others.