Dear John: Breaking Up Is Harder Than He Expected
Wednesday, May 16, 2012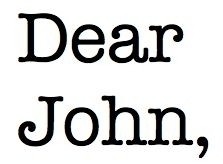 What's your problem? Write to John at [email protected].
Dear John,

I'm a guy on the threshold between young and middle aged. Never been married, but I certainly hope to be one of these days. I recently broke up with a woman I'd been seeing for a couple of years. The breakup was fine and we'll still be friends. We're just different and we knew we weren't going to be together forever, so we agreed to move on. Here's the problem, though: she had a six-year-old boy that I miss more than I ever anticipated. He's just a great kid and I really came to love him, to be honest. I grew up with a dad who was largely absent and who was pretty much checked out even when he was home, and it was hard. I want something else for this kid. He deserves better than that. So is it weird to ask if I can take him to a baseball game or to a movie once in a while? And not just is it weird, but is it right? I want to do what's best for him, but I'm not sure if I want to do this because it's best for him or best for me, you know?

Sincerely,
Miss My Buddy

Dear Miss My Buddy,

I think what you're doing is admirable. You don't mention it in your letter, but I assume this boy's father is not much of a presence in his life? If that's the case, you're right to want to step up.

The first thing you have to do, of course, is talk to his mom. I hope you meant it when you said the two of you will remain friends, because this won't be possible (or advisable) otherwise. Tell her exactly what you told me and see if she thinks this would be a good thing for her son. If so, then sure, ball games, movies, whatever you want to do together. You have to be very sensitive to how this kid is processing all this, though. Don't let him get the wrong idea about you and his mom. Think of your role in his life as more akin to an uncle's than a dad's. And when his mom is in a serious relationship again - one in which the man involved might really end up being his dad - you'll have to step way back as the new guy takes over the job of male role model. Of course, this doesn't mean your relationship with the boy has to end altogether, but let's be honest: he won't need you any more.

That's for the future, though. Right now, he does. And I applaud you for recognizing that and choosing to make a difference in this boy's life.



Dear John,

My wife is the worst vegetarian ever. She's such a bad vegetarian, she eats meat occasionally, or at least meat-containing products. No big deal – except for when our vegetarian friends come over. I think my wife is very proud of her reputation as a fantastic cook, but she got this reputation by cheating. For example, it's not unusual for her to use a tiny bit of chicken stock or butter in her dishes. (We have some vegan friends for whom the latter would be a no-no.) I've told her I don't think she should do that, but she insists on seeing it as harmless mischief rather than the outright lie that it is. The funny thing is, she's not like this in any other part of her life. She's a very honest person. Usually. And I do think our friends would be horrified if they knew. How can I get her to see that this IS a big deal?

Sincerely,
No Appetite For Lying

Dear No Appetite,

Wow, that's a really lousy thing your wife is doing. I find it very strange that an otherwise trustworthy woman would do something so deceitful – and to friends, no less!

I don't know that you can ever get her to see it's a "big deal" if she doesn't think so already, but I don't think you have to go along with it. I think you should propose alternatives the two of you can try whether she accepts the gravity of what she's doing or not. If her reputation as a chef is so important to her, work together to find recipes that will be praiseworthy without using ingredients your guests don't want to eat. If it's your turn to host, propose taking everyone to a vegetarian restaurant instead of having them over to your house. If she insists on continuing to do this, tell her that you won't be home for dinner that night – but really, would she take things that far? You have to let her know that, one way or another, you are not going to continue participating in this charade. I don't think you should expose her lying, but you shouldn't be an accessory to it, either.


Dear John,

I have a friend who's been out of work for a long time. I try to be supportive, but I always end up getting taken advantage of by her a little bit. Like last week she asked if she could borrow my car to go for a job interview, so of course I said yes and got a ride to my own job with a co-worker. But then she didn't return my car when she said she would because as she said, she figured while she had it, she might as well get her grocery shopping done. And that was very inconvenient for me. I really want to help her get back on her feet, and I don't even mind making a personal sacrifice, but she always goes too far. How do I let her know that I want to help; I just don't want to be taken advantage of?

Signed,
Supportive, Not Stupid

Dear Supportive,

If you know this is what she does, the next time she asks for a favor, clearly go over the terms of the favor with her – you will return my car at 5:30, etc. If she doesn't abide by the terms she agreed to, the next time she asks for a favor, simply tell her you're not willing to do that for her (whatever it is) because the last time she asked you for help, she didn't keep her word. (You might also add that this has been a bit of a pattern with her.) Don't let her guilt you into giving in, either. If it comes to this, it will be her doing, not yours. No one can take advantage of you without your cooperation.
John is a middle-aged family man from Providence, Rhode Island. If you learn from your mistakes, he's brilliant. Write to him at [email protected].
Related Articles
Enjoy this post? Share it with others.