1 in 10 Worcester Teachers Missed at Least 20 Days Last Year
Friday, December 07, 2012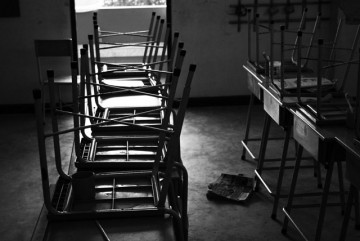 Over 10 percent of Worcester Public Schools teachers missed at least a month of school during the 2011-2012 school year, a GoLocalWorcester review of the district's attendance records revealed.
A total of 200 teachers were absent 20 days or more, and an additional 21 teachers were out for the entire school year on long-term leave, representing 11.5 percent of the district's 1,921 teachers.
The absences represent sick days, personal days, bereavement days and funeral days, school business days, workers compensation days, jury duty days, and religious holidays. Under current contracts, teachers receive 15 sick days per year and three personal days. Unused sick days do carry over to the following school year. Unused personal days do not.
High Absences Due to Extended Medical Leaves
Canterbury Magnet School Computer-Based School had the highest rate of teacher absenteeism, with 6 of 20 teachers, or 30 percent, missing 20 days of school or more. Tatnuck Magnet School, with 7 of 25 teachers, or 28 percent, absent 20 days or more, was not far behind. At Sullivan Middle School, 16 of 65 teachers were out of the classroom for 20 days or more.
"Twenty days is a lot, that's excessive," said School Committee member and former Belmont Community School Principal John Monfredo.
"I don't belive that teachers are abusing the system, but it is certainly something that needs to be recognized."
Worcester Public Schools Human Resource Manager Stacey Deboise Luster said that the teachers at Canterbury School, Sullivan Middle School, and Tatnuck Magnet with 20 or more total absences were primarily absent due to extended medical leaves.
However, such high absence rates were not evident in all of the district's schools. Heard Street Discovery Academy, Lincoln Street School, University Park Campus School and Wawecus Road School were at the bottom of the list, where none of the teachers were absent 20 or more times.
According to Luster, the average sick leave usage in the district is seven days per year. The average personal day usage is less than two days per year.
"We pay close attention to sick leave usage," said Luster, noting that the district has contractual provisions that alert administrators when there is a pattern of sick leave usage by an individual teacher.
"We monitor it, so we question people routinely," she said. "Usually they can document that something is going on."
"The fact that people know that we monitor it helps keep that issue in check," Luster added.
The Cost of Teacher Absence
A study conducted by the Center for American Progress found that public school teachers are absent an average of nine to 10 school days per year, and that between kindergarten and grade 12, a typical student will be taught by someone other than their assigned teacher for the equivalent of two-thirds of a school year.
Those teacher absences can take a substaintial toll on student performance. According to the Center for American Progress study, "every 10 absences lowers mathematics achievement by the same amount as having a teacher with one to two years of experience instead of a teacher with three years to five years of experience."
"Obviously any time we have a teacher out of the classroom that is a concern, mainly because of the continutnity and what we're trying to accomplish on a day-to-day basis," Monfredo said.
In cases where a teacher will be out for an extended leave, Luster said that licensed long-term substitute teachers are hired for absences in excess of 40 days.
"We're sort of blessed in Worcester, we do have some outstanding long-term subs," said Monfredo, noting that a number of retired teachers are among their ranks.
Worcester Public Schools also employs approximately 150 day by day substitute teachers, utilizing an average of 62 such substitutes per school day. Most of the day by day substitutes are bachelor degree teachers, said Luster, but in recent years the district has also included associate degree teachers, the majority of whom are college seniors in Education degree programs.
Sick Leave Abuse Uncommon In Worcester
Len Zalauskas, president of the Educational Association of Worcester, said that he has only heard of two cases of sick leave abuse in his three years as head of the local teachers union.
"It doesn't seem common to me."
According to Zalauskas, most of Worcester's teachers participate in the union's so-called "sick bank," where they donate one of their sick days each year to a communal pool that would then be available if another teacher were to suffer an illness that required more time out of the classroom than they had accumulated on their own.
"It's kind of like an insurance policy."
Zalauskas said teachers can accumulate up to 214 or 215 unused sick days over a number of years, but that is the limit.
"You can't really keep more than 200 on the books," he said.
Related Articles
Enjoy this post? Share it with others.