15 to Watch in 2015: Red Sox Asst. Director of Player Development Brian Abraham
Tuesday, December 30, 2014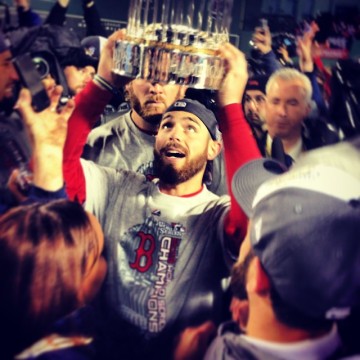 Brian Abraham, of Worcester, and a graduate of St. John's High School in Shrewsbury, has been a Major League Staff Assistant for the Boston Red Sox the past two seasons. Going into 2015, Abraham has recently been promoted to Assistant Director of Player Development. Abraham will be moving from a uniformed on-field staff member to the Red Sox front office.
Abraham will be dealing with players in the Red Sox' farm system and development of minor league players from the point of when they're drafted or signed as a minor league free agent or International free agent.
"Basically, I'll will be working to prepare them as they advance throughout our farm system into the Major Leagues and help them develop as players and as people to best serve the Boston Red Sox organization," said Abraham.
His previous position involved assisting in the Advanced Scouting in preparation for opposing teams, game planning, throwing batting practice and catching in the bullpen.
Before joining the Red Sox, Abraham had worked in the Toronto Blue Jays organization for six years. When Red Sox Manager John Farrell left the Blue Jays to join the Red Sox, he asked Abraham to join the Red Sox.
"He (Farrell) wanted me on his staff, and I was obviously more than happy to accept," said Abraham.
---
Related Slideshow: 15 to Watch in 2015
Related Articles
Enjoy this post? Share it with others.